DETROIT — Mayor Mike Duggan, the man who brought lighting back to every street in Detroit and drastically improved police response times and garbage collection, seems headed for a landslide re-election victory less than three weeks from now.
You never know for sure, of course, and journalism is filled with columnists (including me) who thought Donald Trump couldn't be elected. Even so, it is difficult to imagine State Sen. Coleman Young II pulling off an upset on Nov. 7.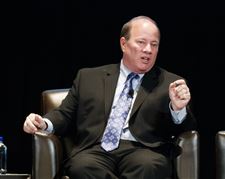 Detroit Mayor Mike Duggan
AP Images for JPMorgan Chase Enlarge
The challenger was trounced in the August primary, losing to Mr. Duggan 43,535 to 17,180, or 68 percent to 27 percent. Since then, Mr. Young has waged a largely invisible campaign, possibly because he has attracted few donations or endorsements.
Yet, what happens after the election is over?
John Mogk, one of Detroit's foremost experts on urban problems, has been strongly supportive of what the mayor has accomplished since his stunning election victory four years before.
But he adds that it's not nearly enough.
Not if Detroit is to begin to become anything like the city it once was, when its glamour and jobs lured thousands to this state.
"During his second term, Mike Duggan needs to move from fixing the short-term problems to laying a long-term foundation for the city," he told me over lunch one recent afternoon.
Mr. Mogk's credentials are unequaled. He has been a law professor at Wayne State University since 1968, when he decided to come back to his native Detroit after the devastating riot the year before. Prior to that, he'd worked as legal counsel to U.S. Sen. Robert Kennedy's program to revitalize the Bedford-Stuyvesant section of Brooklyn.
Now 78, he's been intimately involved with the city ever since, serving on everything from the Detroit Board of Education to chairing the Michigan Council on Labor and Economic Growth.
Old-timers remember his inspiring "Walking John" campaign for mayor in 1973, when he didn't win, but inspired thousands by walking the streets of as many neighborhoods as possible.
Lessenberry
The Blade
Enlarge | Buy This Image
Now, he says Mr. Duggan's task for his second term should include an updated realistic master plan, major efforts to strengthen community organizations, and an effort to change the Michigan constitution regarding one issue that has long stood in the way of attracting new jobs to Detroit:
Eminent domain.
Back in 1981, the city used eminent domain to seize a neighborhood called "Poletown" on the Hamtramck border, buying hundreds of homes and businesses, bulldozing them, and turning the land over to General Motors for a plant.
The move was bitterly controversial, though said by the state courts to be legal at the time. But in 2004, the Michigan Supreme Court overturned that, ruling in a case called County of Wayne vs. Hathcock that it was an improper "radical departure from fundamental constitutional principles," and that governments cannot use eminent domain to give land to private developers.
Many hailed that decision. "The Michigan Supreme Court has restored the right of all Michiganders to keep their homes and businesses, even if another politically connected private business wants them," said Chip Mellor, president of the Institute for Justice, a libertarian public interest law firm.
But John Mogk calls it a disaster for the city. "Detroit needs to be able to use eminent domain for these purposes," he said, for one big reason: The city has no available large parcels of land.
"We've got a lot of vacant land [24 square miles]," Mayor Duggan told me in August, "but it is in a checkerboard of one and two-lot parcels," with no no easy way to assemble it.
Mr. Mogk thinks that after the election, the mayor should use his political capital to push for a constitutional amendment that would allow the city to use eminent domain. He knows there's a need to guard against abuses — and would exempt from the requirement any home whose owner has lived there at least a year.
As proof that eminent domain can work, he noted that the city used it to acquire land for two auto plants — Poletown, formally known as the GM Hamtramck Assembly Plant, and the Chrysler Jefferson Assembly Plant. "They are the only [automobile assembly plants] left in Detroit, and remain state-of-the-art today," he said.
Beyond that, however, he thinks a re-elected Mayor Duggan needs to do some other things to lay the foundation for the city's future, including adopting a modern and realistic master plan.
Mr. Duggan's slogan has always been "every neighborhood has a future." But while Mr. Mogk acknowledges that's politically powerful, he says "it's bad for long-range city development.
Simply put, Detroit is now a city of perhaps 672,000 people in a space where there were once 2 million. What's needed, he said, was to find incentives to consolidate population and design productive uses for areas that are nearly or fully vacated.
Again, this is something that would be a lot easier to do if the city had the right to make judicious use of eminent domain.
There are other things Mr. Mogk would recommend, including stronger ties between the city and community organizations, and redoubling efforts to support and improve public education in Detroit.
That doesn't mean, Mr. Mogk cautioned, that he doesn't have enormous respect for what Mike Duggan has done so far.
He thinks, however, that once re-elected, the mayor will have both a duty and a chance that may never come again to set Detroit on a course not just for bare survival, but for a growing future.
That might be the best indication of how important for this state this election — and the decisions flowing from it — may be.
Jack Lessenberry, the head of the journalism faculty at Wayne State University in Detroit and The Blade's ombudsman, writes on issues and people in Michigan. Contact him at: omblade@aol.com.
Guidelines: Please keep your comments smart and civil. Don't attack other readers personally, and keep your language decent. Comments that violate these standards, or our privacy statement or visitor's agreement, are subject to being removed and commenters are subject to being banned. To post comments, you must be a registered user on toledoblade.com. To find out more, please visit the FAQ.