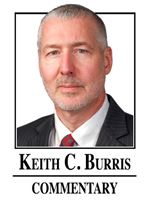 Keith Burris.
THE BLADE
Enlarge | Buy This Image
I am looking at a dog-eared book on my desk. It is called Loyalties, and the author is Daniel Patrick Moynihan.
And I am thinking about the political significance of Oreo cookies.
Read the previous column from Keith Burris
My friend Bruce Baumhower, president of the United Auto Workers Local 12 in Toledo, once told me that he and his wife have determined that Oreos are made in two places — one overseas and one in America by U.S. workers. When they buy these cookies, Mr. and Mrs. Baumhower make sure to buy the ones made in America.
That's how deeply Bruce feels about "buying American." And that's a small example of economic nationalism — sentimental to some people, patriotic to others.
But, I would like to also suggest — rational. Ties that bind are usually, ultimately rational.
The late Sen. Moynihan's book is seemingly out of date. He weaves together three related essays — one about the former Soviet Union and anti-Semitism, another about the arms race the United States ran against the former USSR and a third about international law. Moynihan said our country should always lead the world in respect for international law.
But it is really a book, like all Moynihan's books, about self-government. The spiritual basis of self-government is self-determination: The will to mold our own destiny. Great nations are not along for the ride.
Then comes the practical task: How do we organize oursleves for civil association? How do we make decisions based on something more than whim, or prejudice, or passions of the moment?
Moynihan was asking the same question the Founders asked in the Federalist Papers. How do we do this? How do we make democracy work?
Moynihan said we must "consider our interests rather than giving in to impulses," or inertia. He calls that the basis of law.
But interest over impulse is really the basis of all governance — whether in a family, a church, a business or in the executive branch of the federal government.
President Donald Trump, true to his word, has now tilted U.S. trade policy toward U.S. interests — toward American steel and aluminum and autos, and therefore toward American workers. He could not have done otherwise. Economic nationalism is the president's core political belief, one he has articulated for 30 years. It was the basis of his presidential campaign: tariffs and protectionism, without apology or tears.
And he has a rebellion on his hands. It is a fundamental, and bipartisan, precept of the American political establishment that tariffs are but an add-on to doing business and so, ultimately, a tax. Protectionism will fail in a global economy and only cost the American consumer and laborer.
But, answers Mr. Trump — and a motley band of maverick, mostly Democratic, politicians — what sort of tax is unemployment, or underemployment? Or a decimated town where you still wish to live?
U.S. Rep. Marcy Kaptur represents the city of Lorain, Ohio, a town built on and sustained by the steel industry. Without steel, American infrastructure cannot be rebuilt. Without steel, no Lorain. It would cease to exist.
How many American towns must be obliterated before we acknowledge that a little protection might be in order?
The globalists, says Miss Kaptur, forgot democracy.
They surely forgot working-class Americans. But they also forgot that democracy is about people banding together in defense of their interests, in defense of themsleves and the lives of their families.
Reason plus self-interest equals self-government.
The essence of governance is protection, be the protector a mother, a father, a pastor or a president. You protect the flock.
No one would argue against military protection for the nation in favor of inexorable global forces. How is it that economic protection came to be regarded as untenable, or merely sentimental?
Here's the irony: You cannot have a nation without national sentiments, without feelings of mutal affection.
The sum of what it means to be a nation is the sentiment that we are all bound together.
But it is too late, many would argue. The ship has sailed. The economy is global now and steel can never come back.
Perhaps it cannot, fully. In which case this gesture will be a vindication and a tribute.
But perhaps a little. In which case, 25,000 jobs for greater Pittsburgh or the Cleveland-Toledo corridor may not be 150,000 jobs, but they will be a recompense — and food on the table for many families.
"It is about time," said former Democratic congressman and current gubernatorial candidate Dennis Kucinich last week, "that we stand up for American industry." That is the sentiment that should be bipartisan.
EDITORIAL: Steel has a champion
So now we will see the Oreo test applied. Will Americans pay a little more for a product made by a neighbor than a product made abroad, more often than not by people without rights? Stay tuned.
Congress ceded the right to assess tariffs to the president some years ago, as a matter of national security. The president also holds the power of enforcement, and hence the right to bargain. I would argue that a United States without a steel industry is indeed militarily insecure, but also psychologically insecure. Every major nation of Europe and Asia protects its own industries and workers, at least to some degree. What would it say about us if we possessed no such will?
"Loyalties," Pat Moynihan wrote, "can be revived."
Keith C. Burris is editor and vice president of The Blade, and editorial director for Block Newspapers. Contact him at kburris@theblade.com or 419-724-6266.
Guidelines: Please keep your comments smart and civil. Don't attack other readers personally, and keep your language decent. Comments that violate these standards, or our privacy statement or visitor's agreement, are subject to being removed and commenters are subject to being banned. To post comments, you must be a registered user on toledoblade.com. To find out more, please visit the FAQ.