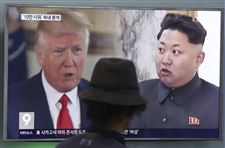 A man watches a TV screen showing U.S. President Donald Trump and North Korean leader Kim Jong Un during a news program at the Seoul Railway Station in Seoul, South Korea.
ASSOCIATED PRESS Enlarge
It's been said that if we repeat the mistakes of history, we will get the same negative results. What if we repeat what has worked in the past? Shouldn't we get the same positive results?
John F. Kennedy told Khrushchev to take the missiles out of Cuba. Khrushchev did. Ronald Reagan told Gorbachev to "tear down that wall." Gorbachev did. President Trump is telling Kim Jong un to stop his nuclear program.
Remember that Chamberlain tried to appease Hitler. We know how that turned out. Appeasement doesn't work. Evil must be faced and brought down by good and courage.
Maybe the "establishment" better think twice before trying to take down President Trump.
STEVE CHERRY
Oregon
Click here to submit a letter to the editor | View the Behind The Readers' Forum series
Republicans not for working man
I feel the presidency of Donald Trump is toast. Pick your poison: obstruction of justice, tax evasion, money-laundering, the emoluments clause, criminal indictments, mental incompetence, or Russian collusion.
So after he is gone, then what? The latest tax bill was passed to appease Republican billionaire donors. There are also millionaires in congress.
Every single Republican senator who was present voted for the tax bill, giving themselves a nice tax break. Every single Democratic senator voted against the tax bill, thereby resisting that personal tax break and not adding to the deficit. Which party is really looking out for the working man?
Republican House Leader Paul Ryan has already suggested that he will make up the deficit that they are creating by cutting or eliminating Social Security, Medicare, Medicaid, and CHIP.
Start fixing up those spare rooms for your elderly parents.
CARL G. BRYWCZYNSKI
Belfair Court
Washington Local a bunch of comics
What about the Washington Local School Board holding its monthly meetings at the Funny Bone Comedy Club?
I'm sure a few budding stars will be discovered.
KEVIN KELLY
Oregon
Follow @BladeOpinion on Twitter.
Guidelines: Please keep your comments smart and civil. Don't attack other readers personally, and keep your language decent. Comments that violate these standards, or our privacy statement or visitor's agreement, are subject to being removed and commenters are subject to being banned. To post comments, you must be a registered user on toledoblade.com. To find out more, please visit the FAQ.