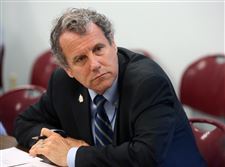 U.S. Sen. Sherrod Brown (D., Ohio)
The Blade/Amy E. Voigt
Enlarge | Buy This Image
Thank you to The Blade for drawing attention to the need to fund our community health centers (Feb. 5, "Fund local health centers"). It's unacceptable that health centers across Ohio have now gone more than 125 days without any certainty that they'll have the funding they need to keep operating and serve patients.
This week, Senator Rob Portman and I joined a bipartisan group of our colleagues in sending a letter to the Senate leaders of both parties, asking them to work with us to immediately reauthorize funding for these vital lifelines that provide affordable, accessible care for 27 million Americans, including more than 700,000 Ohioans.
This is no place for partisanship — community health centers need to know they'll be able to keep their doors open, and patients need to know they'll be able to continue to see their doctors.
SHERROD BROWN
U.S. Senator
Click here to submit a letter to the editor | View the Behind The Readers' Forum series
A flawed argument
In response to Keith Burris' Feb. 4 column, "The last gentleman," let me say I'm glad his memories of his grandfather are so loving, as they should be. The assertion, however, that the 1960s, feminism, and social media caused this climate of sexual harassment and violence against women is completely flawed.
This didn't start in more modern times — it just became easier to expose it.
LORILEE GREEN
S. River Road
Follow @BladeOpinion on Twitter.
Guidelines: Please keep your comments smart and civil. Don't attack other readers personally, and keep your language decent. Comments that violate these standards, or our privacy statement or visitor's agreement, are subject to being removed and commenters are subject to being banned. To post comments, you must be a registered user on toledoblade.com. To find out more, please visit the FAQ.