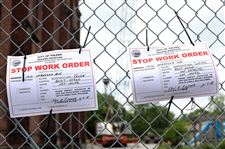 "Stop Work Order" signs issued by the city of Toledo are on the perimeter fence of St. Anthony Catholic Church, citing an issue with the demolition permit, on June 3.
THE BLADE/AMY E. VOIGT
Enlarge | Buy This Image
Recently, there has been controversy over an empty church in East Toledo (June 3, "St. Anthony's demolition delayed") because the Diocese of Toledo plans to demolish an empty church that is falling into disrepair.
I would like to know how many of those fighting to prevent the demolition of St. Anthony's Church building actually live in that old South End neighborhood. And I'd like to ask all of them why that neighborhood deserves to have an old, deteriorating building in the neighborhood.
Our Polish immigrant ancestors, including my great-grandmother who lived on Hamilton St. in Kuschwantz, built the parish to be a dignified example of faith. Let St. Anthony's fade into history with the dignity it deserves.
GAYLE J. SCHABER
Maumee
Click here to submit a letter to the editor
Adults watched, did nothing to stop children from abusing puppy
After reading about the abused puppy being kicked and used as a football, I ask: What kind of children are we raising? Adults were watching but didn't take action (May 30, "Humane Society offers $5K reward for information in puppy's death").
Thanks to Sabrina Sylvester for snatching the puppy and taking it to Lucas County Canine Care and Control for emergency care.
The poor puppy was beyond saving and thankfully put out of its misery.
PAUL E. HOLLINGER, SR.
West Toledo
Trump is one-sided on disrespect
The Philadelphia Eagles had their invitation to the White House rescinded because of Trump's perceived disappointment with NFL's flag policy, which he believes is disrespectful (June 4, "Trump calls off Eagle's visit over national anthem dispute").
Kid Rock mutilated the flag and wore it as a poncho during the 2004 Superbowl, clearly stated as a violation in the U.S. Flag Code, and Trump gave him a personal guided tour of the White House.
Obviously, he sees disrespect from conservatives as acceptable.
BILL PIEPER
North Toledo
Guidelines: Please keep your comments smart and civil. Don't attack other readers personally, and keep your language decent. Comments that violate these standards, or our privacy statement or visitor's agreement, are subject to being removed and commenters are subject to being banned. To post comments, you must be a registered user on toledoblade.com. To find out more, please visit the FAQ.