They say you can't put a price on love. But Valentine's Day? That definitely comes with a cost.
Yet it doesn't have to be a big one, says Michelle Gorsuch, a finance and employment coach at ProMedica Ebeid Institute, which does community health outreach.
"You have to have a little bit of fun money," she said. "You don't want to make yourself miserable. Make sure you have that much money left over. If not, readjust, be creative with whatever gift you want to give."
Communication is key when it comes to discussing a budget in a relationship, she said. And, for those trying to limit their spending, there's always a cheaper alternative to celebrate Valentine's Day.
"Be creative with it," she said, "but make sure it's within your fun money budget."
Just this past week the National Retail Federation estimated that Americans will spend an average $146.53 on Valentine's Day this year, up from $136.57 in 2017. But Ms. Gorsuch and other experts consulted insist that romance can be found for far less if you are willing to be inventive. Here are a few suggestions to get you started: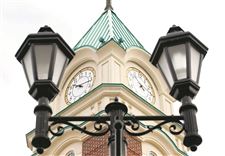 The Clock tower at Levis Commons.
The Blade/Amy E. Voigt
Enlarge | Buy This Image
Dinner for two
A romantic dinner is a Valentine's Day staple, but don't feel like you have to blow your budget on surf and turf.
■ Try a night out at the Town Center at Levis Commons, where a same-day receipt snags diners a complimentary horse-drawn carriage ride. For details and a full list of restaurants, go to shopleviscommons.com.
■ If you're really tight on funds, Blade Food Editor Mary Bilyeu has you covered on tasty treats for $5 or less. Check out toledoblade.com/thriftythursday.
■ The budget-conscious might be tempted to reach for that pack of instant noodles, which become a totally legitimate option when you spruce them into something gourmet. Check out Spoon University, Buzzfeed, and other sites for a wide variety of so-called "ramen hacks" — recipes that turn that cheapest of meals into something really special.
On the town
Maybe you want to go out on Wednesday; maybe you want to wait for the weekend. But you want to go somewhere, right?
■ Consider giving ballroom dancing a shot. Kent Lautzenheiser recommends a private or a group lesson at his studio, Toledo Ballroom, as a budget-friendly Valentine's Day outing. He sees new couples partake each year.
"It's a low-commitment thing, but it's really fun," he said. "It's something different for couples to do."
Two private lessons, plus a group lesson and admission to a social dance, run just $75. No experience or registration is needed to drop into a beginner class, hosted at 7 p.m. each Friday for just $25 per couple. For details, check out toledoballroom.com.
■ An escape room offers a date night that's both suspenseful and romantic, which may be just the thing for the adventurous couple. Escape Game Experience, at the Shops at Fallen Timbers in Maumee, is open on Wednesday and runs just under $30 per person. Trapped Toledo, 2410 Key St., is open, too, for $20 a head.
The concept is simple: You've got a certain amount of time (usually 60 minutes) to scour the room for clues that enable you to escape. You'll pool your intellectual resources with others in your group, usually no more than 10 people. To book a slot or get more information, go to escapegameexperiences.com or trappedtoledo.com.
■ The Valentine Theatre offers a budget-friendly date on Friday, when it runs its Silver Screen Classics. This week's film, Gone With the Wind (1939), is teeming with romance in the antebellum South. Tickets are just $5. Check out details at valentinetheatre.com.
■ Head to the Toledo Museum of Art, where a late-night flashlight tour hints at romance. Tours run Thursday, Friday, and Saturday for $30 ($23 for members) and typically go quickly. Check out toledomuseum.org for details.
Don't forget that a stroll through the art museum is always priced the way everyone likes it: free. The museum is open until 4 p.m. Tuesday and Wednesday and 9 p.m. Thursday and Friday; weekend hours are 10 a.m. to 5 p.m. Saturday and noon to 5 p.m. Sunday.
Home sweet home
Want to avoid the logistics — and expense — of a high-pressure date night? A night in can be just as nice.
Save yourself the time spent scrolling through the movie selections on Netflix: The American Film Institute suggests 100 of its most romantic films of all time. Topping the list: Casablanca (1942), Gone With the Wind (1939), and West Side Story (1961).
Don't forget: The Toledo Lucas County Public Library lends material for free as well (and library cards are free).
Add a bottle of wine, or a mug of cocoa if that's more your style, and you've got yourself a date night.
The artsy couple might enjoy a DIY wine-and-paint night. Go for canvas and acrylics if you're feeling ambitious; printer paper and the kids' watercolors if you're not. Paint each other, paint the dog, paint whatever sounds like fun. (Not the children. There are probably laws against that.)
Or take a seat on the couch, flip on the television, and fire up that game console. Forget about your responsibilities for an evening while the two of you bond over shooting fireballs in Super Mario or a co-op tournament in Call Of Duty.
Something special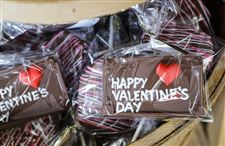 Chocolate for sale at Maumee Valley Chocolate and Candy in Maumee on Wednesday.
The Blade/Andy Morrison
Enlarge | Buy This Image
Roses and Godiva aren't your only options for flowers and chocolate.
Snag a simple bouquet of grocery-store blooms or, if you're really short on cash, make a bundle of paper flowers. If you can't find the tissue paper in your closet or basement, it'll cost you less than $5 at Target or Walmart. Look up a few petal patterns online or just layer tissue-paper circles onto a green pipe cleaner for some perfectly adequate blossoms.
That candy dilemma can similarly be solved with grocery-store fare. Or earn some effort points by dipping your own chocolate-covered strawberries. There are plenty of recipes online for the moderately ambitious cook, or keep things simple with a container of Baker's Dipping Chocolate, which will run your less than $5 at the grocery store.
Finally, consider impressing your date musically. Thanks to Spotify, you can easily create a personalized playlist and dedicate it to your special someone. They'll be sure to recognize "your song." For the musician who wants to be extra creative, bust out that guitar, piano, or high-school-band tuba and record a song on a computer program like Apple's GarageBand.
Contact Nicki Gorny at ngorny@theblade.com or 419-724-6133. Contact Geoff Burns at gburns@theblade.com or 419-724-6054.
Guidelines: Please keep your comments smart and civil. Don't attack other readers personally, and keep your language decent. Comments that violate these standards, or our privacy statement or visitor's agreement, are subject to being removed and commenters are subject to being banned. To post comments, you must be a registered user on toledoblade.com. To find out more, please visit the FAQ.