COMMENTARY
A week of feasting and fasting
2/12/2018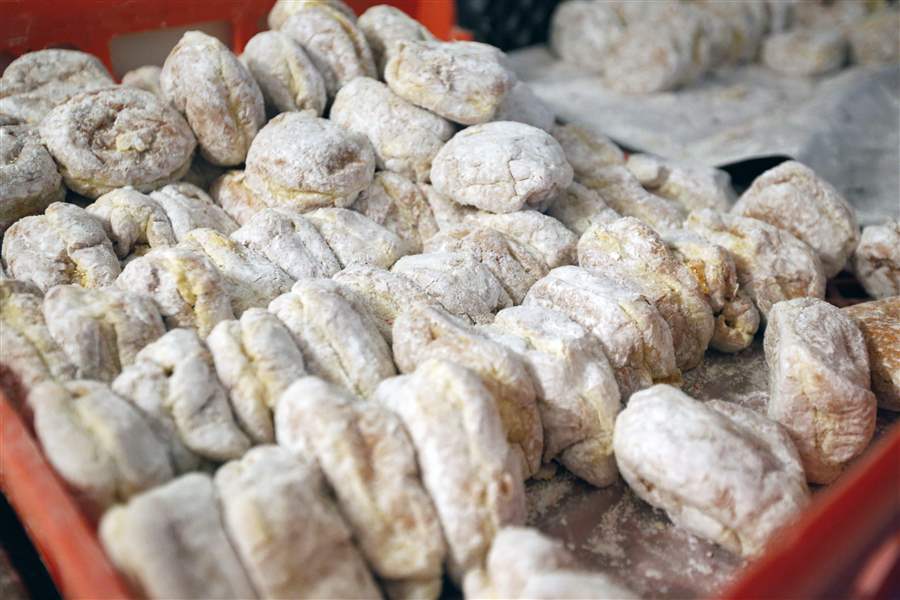 Lemon paczki ready to be bagged on Fat Tuesday in 2016.
The Blade/Amy E. Voigt
Buy This Image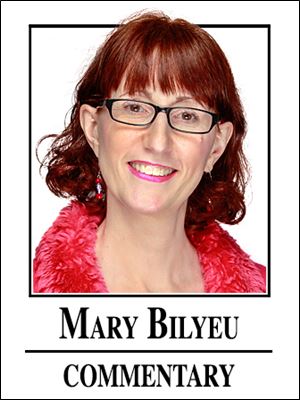 Tuesday, of course, is Paczki Day.
Whether you're going to be gleefully giddy with treats from the LaGrange Street Paczki Sale, Bakery Unlimited, the Next Sweet Thing, Brieschke's Bakery, Haas Bakery, Strachn Bakery, Michael's Café and Bakery, Café Donuts, Stanley's Market, Wixey Bakery, or any of the other fabulous places that will tempt you with treats, it's a celebration of sugar, eggs, dairy products, and other items that have traditionally been taboo during Lent, which begins Wednesday.
But it's also Mardi Gras, and many will let the good times roll with king cake. As a New Orleans native I watched as Chopped once described it, it's essentially a giant cinnamon roll with colorful frosting. Oh, but that's like calling a paczek a jelly doughnut — king cake is so much more than that.
It's an egg-enriched dough that is swirled with spice (and sometimes other flavors), then formed into a ring. Once baked, the bread-like cake is slathered in frosting and sprinkled with sparkles: green for faith, purple for justice, and gold for power. A small figure of the baby Jesus, or some other token, has been baked inside; the one who finds it is named king or queen of this year's festivities and then becomes responsible for hosting the next year's party.
People seeking something savory to balance out the sugar also often eat representative New Orleans dishes such as jambalaya or gumbo, po' boys or even red beans and rice (though this is traditionally served on Mondays, since it could simmer while laundry was being done). Those with cavity-defying sweet teeth maybe even add beignets or bread pudding to their menus, these being two more ways to use up those eggs, sugar, butter, and cream.
Shrove Tuesday or Pancake Tuesday is another name for this day before Ash Wednesday. (The name derives from the verb "to shrive," meaning to seek penance and absolution.) And yes, of course, the requisite food is light, fluffy, syrup-doused pancakes that help to clear the kitchen of those indulgent ingredients that should be eschewed in the weeks of preparation for Easter. Of course, no one would argue if you ate delicious, delicate French crèpes instead. It's all good, in every sense of the phrase.
Whew. I can feel my arteries clogging just from typing all of that, and I didn't even include Carnival consumption, such as Venetian fritelle (fried rounds of dough that put mere doughnut holes to shame) or Belgian smoutebollen (fruit-filled doughnuts). There are so many, many treats and traditions.
And that's just one day's festive fare in a week of potential gut-busting gluttony.
Valentine's Day is Wednesday and brings with it expectations of indulgent dinners, celebratory champagne, and beautiful boxes of chocolates. Of course, when this Hallmark holiday of love coincides with Ash Wednesday's fasting and abstinence, perhaps date night will get rescheduled for many who are observant.
And with Lent beginning this week, that means that fish frys will be hosted throughout the area on Friday and each subsequent week until Easter. (Some will serve on Good Friday, while others will not.) There are too many churches and service organizations for me to list them here, but they all offer a hearty, wholesome dinner, community spirit, and a good cause to support. They nourish us in both body and soul.
Friday also brings Chinese New Year, with dumplings, noodles, and other festive fare to welcome the Year of the Dog.
It's a veritable festival of feasting this week. You might want to add some antacids to your shopping list.
Contact Mary Bilyeu at 419-724-6155 or mbilyeu@theblade.com, and follow her at facebook.com/thebladefoodpage.