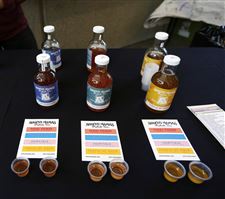 Boochy Mama's Probiotic Tonic will be one of the several local vendors participating in a celebration of Toledo food and beverages at the Pub at Paula Brown Shop.
The Blade/Samantha Madar
Enlarge | Buy This Image
On Tuesday, head to the Pub at Paula Brown Shop, 912 Monroe St., from 6 to 9 p.m. for a celebration of Toledo foods and beverages. Eat, drink, shop, and make friends with local merchants at this mini market.
Tickets cost $30 in advance and $40 at the door, and include four drink tickets for sampling specialty cocktails created just for this event by Toledo Spirits or craft beers from Earnest Brew Works and Patron Saints Brewery. (Extra drink tickets will be available at the event.)
There will also be food prepared by Michelle Ryan Catering, using locally sourced ingredients from area farmers.
Vendors and suppliers include Black Kite Coffee and Pies, Boochy Mama, Claudia's Preserves, Green Gate Soy Co., Herbaceous, Maumee Bay Brewing Co., Nature's Health Food, and Parrish Pork and Poultry. Live music will be performed by Derrick Hudson.
For more information and to purchase early bird tickets, go to paula-brown-shop.myshopify.com or call 419-241-8100.
Erie MetroParks marks 50th birthday
Erie MetroParks welcomes the community to join in its 50th birthday bash with a number of summer celebrations.
From 3 to 7 p.m. July 8, a traditional-style birthday party will be hosted at Osborn MetroPark, 3910 Perkins Ave., Huron, Ohio, complete with food trucks and free cupcakes. There will also be a DJ, games, jugglers, and prizes.
A family picnic will be from 11 a.m. to 2 p.m. July 22 at the Coupling MetroPark, 11618 State Rt. 13, Milan, Ohio, offering a free lunch, hiking, and canoeing. Life jackets will be provided, and there will be a certified instructor.
Enjoy coffee outdoors from 8 to 11 a.m. Aug. 5 at the Hoffman Forest MetroPark, 5159 Huff Rd. in Berlin Heights, Ohio. Birds and Beans coffee and pastries will be served. And there will be an opportunity to explore the area with guides from Old Woman Creek National Estuarine Research Reserve; a limited supply of binoculars will be provided.
For more information about these and other events in the series, go to eriemetroparks.org/partyon or call 419-625-7783.
Flavored Nation coming to Columbus
Flavored Nation has identified the most representative foods from each state in the country, and is bringing them all to the Greater Columbus Convention Center, 400 N. High St., from 11 a.m. to 5 p.m. Aug. 11 and 12. This culinary tour is being billed as a "chance to feast from sea to shining sea."
The 50 vendors offering samples of their home cuisines will include Dickie Brennan, Jr., owner of several of New Orleans' most famous restaurants, who will serve gumbo; Texas' Grady Spears, who will cook chicken fried steak wearing full Western regalia, and chef Mandy Dixon bringing reindeer sausage all the way from Alaska. Other delicious dishes will range from Oregon's marionberry pie to South Carolina's shrimp and grits, Wyoming's bison meatballs to Kentucky's hot brown sandwiches, and from South Dakota's chislic (small seasoned and browned cubes of meat that are a popular bar food) to Ohio's own beloved buckeyes.
Tickets cost $35 in advance for general admission single-day tickets or $45 at the door, and are available at flavorednation.com; children under 5 can come for free. Included are 10 tastings and access to stages that will feature celebrities, chefs, cooking competitions and demonstrations, sommeliers, mixologists, and beer crafters.
Contact Mary Bilyeu at 419-724-6155 or mbilyeu@theblade.com, and follow her at facebook.com/thebladefoodpage.
Guidelines: Please keep your comments smart and civil. Don't attack other readers personally, and keep your language decent. Comments that violate these standards, or our privacy statement or visitor's agreement, are subject to being removed and commenters are subject to being banned. To post comments, you must be a registered user on toledoblade.com. To find out more, please visit the FAQ.