PORT CLINTON — While the wind was sometimes hyperactive, the water was often high and roily, and the spring walleye fishing did have its spectacular moments, overall the volume of citations issued to those breaking the rules was down.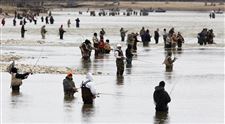 Division of Wildlife officers spend much of their time each spring, when the fish are concentrated during spawning, monitoring the crowds of walleye fishermen on the Maumee and Sandusky rivers and on western Lake Erie.
THE BLADE
Enlarge | Buy This Image
Now whether that was merely an anomaly, or some cases have yet to work their way through the system, or a matter of too few wildlife officers and too much water to cover, or a sign that humanity has turned the corner and started down a more righteous and law-abiding path — the jury is still out on that.
In years past we have seen a rash of springtime violations on Lake Erie near here, with scofflaw anglers engaging in taking more fish than the daily bag limit allows, with some quickly cleaning and cutting their fish into chunks in an attempt to mask their misdeeds.
On the Maumee and Sandusky rivers, where illegally keeping fish that were snagged or foul-hooked, overbagging, and littering are the big three sins of the fishing miscreants, citations for those violations were also a bit lower, according to the officers from the Ohio Department of Natural Resources charged with monitoring such activity.
Jeff Collingwood, Lake Erie Law Supervisor with the Division of Wildlife, was hesitant to read too much into the preliminary picture because multiple variables are often at play during the spring fishery, on both the lake and the rivers, and there likely could be some additional cases still to come.
"We didn't see the numbers of citations that we've had in the past, so it was reduced, but part of that could just be due to poor fishing conditions," Collingwood said. "It seemed like we would get one decent day on the lake, and then that was followed by a poor day. And if we get a strong wind and rain event like we experienced a number of times this spring, that can mess up the fishing for two or three days."
John Windau, wildlife communications manager for the Division of Wildlife, said lousy conditions certainly played a role in the lower number of citations being issued.
"Part of it has to do with the poor weather this past spring and the inability to fish or catch fish," he said. "However, I believe our law enforcement efforts and media coverage of some of the larger cases have definitely had an impact. Anglers are indeed behaving better."
But not all of them.
There was no blockbuster case such as the 2016 instance in which a couple dozen spring walleye anglers, most of them from Wisconsin, were busted for a series of violations. These walleye hooligans engaged in double-tripping — an illegal practice that involves taking a daily limit out on the lake, pulling the boat out of the water, cleaning the fish and cutting the meat into chunks to mask the number of fillets, stuffing them in a freezer, then going back out on the lake that afternoon to do it all over again.
About 500 pounds of walleye meat was involved in that caper.
Ottawa County wildlife officer Reid Van Cleve did make a strong case involving three reprobates who engaged in double-tripping and overbagging earlier this spring, when the daily limit for walleye was four. These Ohio residents took 16 walleye on the first trip of the day (four over their limit), then went back out on the lake and took an additional 12 walleye. They each received a $150 fine and were charged $800 restitution total for the 16 walleye they had taken over the limit, and all three had their fishing licenses revoked for one year.
Collingwood said that in another case this spring, a pair of angling ne'er-do-wells came off the lake just one fish shy of a triple limit.
"We saw some of those cases, with guys coming in heavy," Collingwood said. "And in that instance it was a day with poor weather and the fishing did not appear to be very good, but after discussing it on the law enforcement side we decided there were enough boats out there to make it worthwhile. These guys came off the lake later in the evening and were way over the limit."
The scene on the rivers was also heavily impacted by the turbulent weather this spring, but Collingwood said that when the wind was especially robust on the lake, additional officers were available to police the activity on the Maumee and Sandusky waterways.
"We did spend a lot of time on the two rivers, and the situation there was similar to past years," he said. "The number of citations was down, and we'd like to think that our enforcement efforts are having an effect. It is important to add that the vast majority of the anglers are following the rules."
Outside of the usual sporadic cases of snagging and overbagging on both rivers, Collingwood said the Sandusky produced a few additional violations, with anglers staying on the river and fishing beyond the legal hours for the walleye run, or sneaking back to the river under cover of darkness, again outside the legal fishing hours.
"We did see some of that, but overall most of the people out there fishing are good folks, and most of them want to see the rules followed," he said. "We always appreciate it when we get good information from guys that are following the rules, and we made some cases this spring based directly on information from other anglers in the water."
Contact Blade outdoors editor Matt Markey at: mmarkey@theblade.com or 419-724-6068.
Guidelines: Please keep your comments smart and civil. Don't attack other readers personally, and keep your language decent. Comments that violate these standards, or our privacy statement or visitor's agreement, are subject to being removed and commenters are subject to being banned. To post comments, you must be a registered user on toledoblade.com. To find out more, please visit the FAQ.