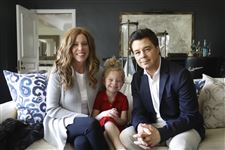 Bobbi Johnson-Filipiak, left, was diagnosed with lung cancer while pregnant with her daughter Kate, now 5, center, who are pictured with their husband and father Jim at their home Tuesday, June 5, 2018, in Ottawa Hills.
The Blade/Katie Rausch
Enlarge | Buy This Image
Lung cancer wasn't even remotely on Bobbi Johnson-Filipiak's radar.
After giving birth to her first child in December, 2012, the then-40-year-old was focused on recovering from an emergency cesarean section and enjoying her new baby. But complications after the high risk-pregnancy prompted doctors to order a CT scan of her brain as a precaution.
In what she considers an error summoned by divine intervention, a technician misread the order and scanned her chest, and found a mass on her right lung. Doctors didn't initially raise any alarms, citing her overall health, lack of symptoms, and the fact that she'd never smoked.
"I went home when they released me from the hospital, I'm enjoying being a new mom, and I'm thinking, 'There's no way,'" she recalled. "Something was nagging at me."
Together with her husband, Jim, they decided she needed answers. A second scan confirmed the mass. A biopsy confirmed cancer: stage III B, in fact, and it had spread to her lymph nodes.
VIDEO: Bobbi Johnson-Filipiak
Mrs. Johnson-Filipiak found herself in a group many are surprised to join: lung cancer patients who have never smoked, many of whom are younger and otherwise very healthy.
"I will be the first to tell you, I knew nothing about lung cancer," she said. "My family knew nothing about lung cancer before we were affected by it."
When the shock began to wear off, they made a plan to attack it with gusto, she recalled: Six weeks of radiation, chemotherapy, and surgery to remove part of the right lung and affected lymph nodes.
And for a while, things looked good. Mrs. Johnson-Filipiak enjoyed 18 months in remission before another scan picked up cancer again. This time it had spread to her brain and kidney. In spring of last year it appeared on her brain stem and other lung.
In that time, she's enrolled in two clinical trials related to immunotherapy and targeted treatment to her genetic markers, and said she's in the process of learning how to manage living with the disease.
Mrs. Johnson-Filipiak is doing well on the most recent trial and has spent much of her energy raising awareness about lung cancer and decreasing the stigma around what many consider a smokers' disease and therefore think they are immune.
"If you have lungs, you can get lung cancer," she said, adding she wants to be a supportive presence for those recently diagnosed who often are equally shocked.
People look at the numbers, she said — and they're grim. Lung cancer kills more people every year in the United States than any other type, according to the American Cancer Society. Of the more than 155,000 who die from the disease each year, about 30,000 represent non-smokers.
Though tobacco use is the leading cause of lung cancer diagnoses, the American Cancer Society's aggressive anti-smoking campaigns have had an unintended effect.
"We've spent a lot of time — and rightly so — warning people of the effects of using tobacco," said Alexandra Houser Vukoder, a spokesman for the American Cancer Society. "So now the public connects lung cancer and tobacco, end of story. Which is not the end of the story."
Which is why Mrs. Johnson-Filipiak has taken to advocating for more research funding and to end the stigma around lung cancer.
"Your diagnosis is not your prognosis," she said. "Just because you have advanced stage lung cancer does not mean your prognosis is you will live less than five years. I am a testament to that. I just exceeded my five-year mark and I am doing great."
Despite the uphill battle against the disease, new treatments and trials give her hope, she said.
The American Cancer Society is currently funding 88 research projects with $46 million, Ms. Houser Vukoder said.
Among the groups Mrs. Johnson-Filipiak has found helpful is Lungevity, a national organization that offers education and support to lung cancer patients and their families. More patients like her are sharing their stories, said Diana Aldecoa, vice president of the Breathe Deep events for the Lungevity Foundation.
"I really do think it's because of the progress, that there are more treatment options," she said. "People are living longer and better, which is one of the things we want to ensure."
On Sunday, Lungevity will hold its second Breathe Deep run/walk in Toledo, with a 5K run and walk in Swan Creek Preserve.
Registration for the walk is open online until 3 p.m. Friday at lungevity.org/toledo. Participants also can register Sunday morning at the event.
For more information about lung cancer and the associated risks, visit cancer.org/cancer/lung-cancer.
Contact Lauren Lindstrom at llindstrom@theblade.com, 419-724-6154, or on Twitter @lelindstrom.
Guidelines: Please keep your comments smart and civil. Don't attack other readers personally, and keep your language decent. Comments that violate these standards, or our privacy statement or visitor's agreement, are subject to being removed and commenters are subject to being banned. To post comments, you must be a registered user on toledoblade.com. To find out more, please visit the FAQ.