The 90th annual Academy Awards on Sunday night had all the makings of a great film. Drama. Passion. Humor. And a hard-fought and well-earned first win after 14 nominations for brilliant cinematographer Roger Deakins (Blade Runner: 2049).
The big prize, Best Picture, went to The Shape of Water, a beautiful love story about two outsiders: a mute woman and a half-man-half-fish. The Shape of Water won four of its 13 Oscar nominations, including Best Director for Guillermo del Toro.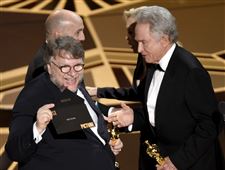 Warren Beatty, right, presents Guillermo del Toro with the award for best picture for "The Shape of Water" at the Oscars on Sunday, March 4, 2018.
Chris Pizzello/Invision/AP Enlarge
There were no suprises in the acting categories:
Gary Oldman won his first Oscar for his towering portrayal of Winston Churchill in Darkest Hour, and Frances McDormand won her second Best Actress Oscar for her role in Three Billboards Outside of Ebbing, Missouri as a mother grieving her murdered teenage daughter becomes a feminist anti-hero.
RELATED CONTENT: Shape of Water wins best picture ■ Producer Patrick Markey sees "change for the better" in Hollywood
Sam Rockwell won Best Supporting Actor for his role as a racist, homophobic, and brutally violent deputy who becomes a hero in Three Billboards.
And Allison Janney won Best Supporting Actress for her dark comic performance as the monstrous mom of Tonya Harding in I, Tonya.
It probably says something about us now that three of those four roles are so complicated and even unlikable.
Jordan Peele won Best Original screenplay for the racially tinged horror-thriller Get Out and James Ivory won Best Adapted Screenplay for the gay coming-of-age love story Call Me by Your Name.
Mexico did really well at the Oscars with del Toro's win and with Coco's two wins for Best Animated Feature and Best Original Song, "Remember Me" by Kristen Anderson-Lopez and Robert Lopez. Coco is a colorful film about a Mexican boy who crosses over into the Land of the Dead.
After accepting his Oscar, Coco co-director, Lee Unkrich offered his "biggest" thanks to Mexico.
"Coco would not exist without your endlessly beautiful culture and traditions," Unkrich said. "With Coco we tried to take a step forward toward a world where all children can grow up and see characters in movies that look, talk, and live like they do. Marginalized people deserve to feel like they belong. Representation matters."
The sexual abuse scandals and a glaring lack of diversity in front and behind the camera that are rocking Hollywood were also a major part of the awards show.
Kumail Nanjiani, who is Pakistani, and the co-star and co-writer of The Big Sick, with his wife Emily Gordon. was part of a short Oscar interview reel featuring women, minorities, and a trans-director in Hollywood, calling for movements like Time's Up, Getout, and Oscarsowhite to continue.
"Some of my favorite movies are movies by straight white dudes about straight white dudes," he said. "Now straight white dudes can watch movies starring me and you can relate to that. It's not that hard."
The clip was introduced by Annabella Sciorra, Ashley Judd, and Salma Hayek, three of several women in Hollywood to accuse Hollywood producer Harvey Weinstein of sexual harassment or assault.
"The changes we are witnessing are being driven by the powerful sound of new voices, of different voices, of our voices, joining together in a mighty chorus that is finally saying 'Time's Up," Judd said.
Oscar host, Jimmy Kimmel, returning after last year's Best Picture Oscar debacle, didn't take too long in his monologue before he called out Hollywood as well.
"Oscar is the most beloved and respected man in Hollywood," he said of the gold statute given to the winners. "And there's a very good reason why. He keeps his hands where you can see them, he never says a rude word, and most important, he has no penis at all. He is literally a statue of limitation."
Contact Kirk Baird at kbaird@theblade.com or 419-724-6734.
Guidelines: Please keep your comments smart and civil. Don't attack other readers personally, and keep your language decent. Comments that violate these standards, or our privacy statement or visitor's agreement, are subject to being removed and commenters are subject to being banned. To post comments, you must be a registered user on toledoblade.com. To find out more, please visit the FAQ.