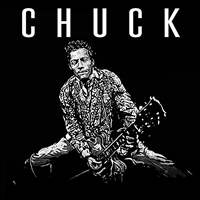 "Chuck" by Chuck Berry
CHUCK
Chuck Berry (Dualtone)
Chuck Berry's legacy as "The Father of Rock and Roll" has been secure for decades, as indelible as the guitar riffs of "Johnny B. Goode" or the image of him duckwalking across a stage.
For those who still have questions, even after all the testimonials that came with his death in March, Berry has left behind Chuck (Dualtone), his first new studio album since 1979's Rock It to silence the doubters.
When Berry announced the album's completion on his 90th birthday, dedicating it to his wife of 68 years, Themetta Berry, he added, "Now I can hang up my shoes!"
It's an understandable thought. As final statements go, Chuck is a doozy — filled with the passion and inventiveness of his early work, as well as his sense of humor.
Berry even keeps up with the times, joking in his version of Tony Joe White's "3/​4 Time (Enchiladas)," "All of my life, there's one thing I've been hoping to find a woman like you, honey, whose software matches this hard drive of mine." Later, he sings about cars and guitars, making it a near-perfect capsule of all his early interests.
Berry's guitar still drives "Lady B. Goode," the sequel to his classic about Johnny. And he is definitely in control of the roaring first single, "Big Boys," which features Tom Morello on guitar and Nathaniel Rateliff on booming backing vocals. Berry tells the tale of how nerdy guys can turn into legendary musicians in slightly more than 3 minutes, one more triumphant rock tale to add to his catalog.
However, Berry also sings from his older, wiser point of view. "Darlin'," his duet with daughter Ingrid Berry, is poignant, as they tell each other "The good times come, but do not stay."
The potent combination makes Chuck one of Berry's best albums, possibly his strongest ever from start to finish.
— Glenn Gamboa,Newsday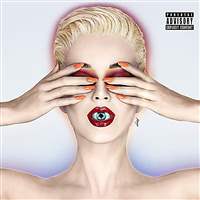 "Witness" by Katy Perry
WITNESS
Katy Perry (Capitol)
She once roared. But now, we'll just call it meowing.
Katy Perry, one of the top voices in contemporary pop over the last decade, limps into her fourth album with a collection of songs that don't have a cohesive feel or message. It's a random hodgepodge of tracks that don't spark or shine; some of the tunes are cute, but most are forgettable.
Witness doesn't offer a fresh, or refreshed, Perry — the only thing new about her is that haircut.
Vocally, she doesn't sound inspired or inspiring. And while Witness isn't expected to be the year's best album, what was expected was some fun, killer pop hits.
Lead single, "Chained to the Rhythm," is watered-down reggae pop without any real reggae flavor, and current single, the Nicki Minaj-assisted "Swish Swish," is a miss-miss.
Witness is Perry's first album without mega-producer Dr. Luke, who is at war with pop singer Kesha over sexual abuse claims (he denies her allegations). Max Martin, Dr. Luke's former mentor, is still present though, along with big names like Sia, Jeff Bhasker, and DJ Mustard.
But none of them come to Perry's rescue. The beginning of "Hey Hey Hey" sounds like "Dark Horse," Perry's last No. 1 hit, and the hook echoes Avril Lavigne. "Bigger Than Me" comes off like a leftover track from her 2013 album, "Prism." And the title track is a bore.
Perry finds the right momentum on the dreamy "Tsunami," produced by Mike WiLL-Made It; "Bon Appetit," chosen as the official second single for mere minutes, is upbeat and catchy; and "Power," with little lyrics, is a shining effort thanks to multi-instrumentalist Jack Garratt's layered, experimental sound.
But overall, Witness falls short. The album's songs are almost as awkward as Perry's recent actions, from the weird dancing onstage with rap group Migos to her "joke" about comparing her hair to former U.S. President Barack Obama. It is also the first time Perry is launching an album without a monster hit behind her.
"Swish swish bish/​Another one in the basket," she sings. Witness is more like an air-ball.
— MESFIN FEKADU, Associated Press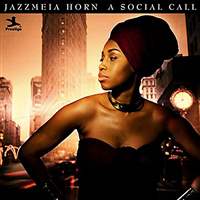 "A Social Call" by Jazzmeia Horn
A SOCIAL CALL
Jazzmeia Horn (Prestige/​Concord)
She's a 26-year-old jazz singer from Dallas with incredible crispness, clarity, tone, and power.
But what Jazzmeia Horn, 2015 winner of the prestigious Thelonious Monk Institute International Jazz Competition, also has is a knack for bringing together the best of Old School jazz traditions with more modern sounds, along with a hefty dose of uplifting, spiritual messages.
As I'm listening to her beautiful voice, I can't help but take a little hometown pride in how the style of music popularized by Toledo's own Jon Hendricks, the father of vocalese, has obviously made its way to her somehow, even if ever so indirectly by the major contribution Hendricks made to her style of jazz singing years ago.
Horn scats are all over the place on this, her debut album, and she cites Sarah Vaughan as one of her greatest musical influences. She also has drawn from greats such as Bobby McFerrin and Betty Carter.
She moved to New York in 2009 to study in the New School's jazz and contemporary music program, and now teaches at the Lincoln Center.
Her unusual first name is not a marketing gimmick: She got it from the late Harriet Horn, her paternal grandmother who was a jazz-loving pianist in a gospel-loving, deeply religious family. She dreamed of her granddaughter growing up to be a jazz singer. Jazzmeia Horn's well on her way with this fine debut.
— TOM HENRY,The Blade
Guidelines: Please keep your comments smart and civil. Don't attack other readers personally, and keep your language decent. Comments that violate these standards, or our privacy statement or visitor's agreement, are subject to being removed and commenters are subject to being banned. To post comments, you must be a registered user on toledoblade.com. To find out more, please visit the FAQ.