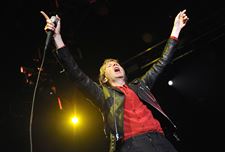 Beck performs onstage at 106.7 KROQ Almost Acoustic Christmas 2016 - Night 2 at The Forum in Inglewood, Calif.
Getty Images Enlarge
COLORS
Beck (Capitol Records)
Singer-songwriter Beck has never been very good at hiding how he's feeling. If you made it through the defeated melancholy of Sea Change without wanting to hurl yourself off a cliff, congrats. But the thing is, Beck doesn't hide when he's happy either.
A very different Beck comes across on Colors, a hook-driven bubbly CD he made with in-demand producer Greg Kurstin, best known for his work with Adele, Kelly Clarkson, Sia, and the Foo Fighters. Beck might be known more for his finely tuned downer rock, but he's mostly angst-free here. One song is even titled "I'm So Free." (The new tune "Fix Me" — a perfect title for the old Beck — turns out not to be mournful at all.)
The 10-track Colors is Beck's most accessible, radio-friendly offering in years but, this being Beck, it's brilliantly layered, with plenty of interesting things happening under the hood. There's pan flute, handclaps, and glockenspiel on it, for goodness' sake.
Beck hasn't been this overtly poppy since Midnite Vultures in 1999 but that was harsh-sounding and more than a little nutty in comparison. Colors is smooth and warm and light. In fact, there are plenty of allusions to Beck emerging from darkness. "Found our way through the lost years/ Now the day brings it all here," he sings in the title song.
We got a good hint this direction was coming in 2015 when Beck released "Dreams" from the new album. It's a strummy, drum-driven dance song that's all about putting your arms in the air but belied by lyrics about "trouble on the way."
Other songs tumble from a happy place. The super "Up All Night" is a sweet song about older lovers — or maybe happy dads taking care of babies — in the quiet hours when "night is crawling up to the day."
"No Distraction" feels reminiscent of the Fixx and "Seventh Heaven" sounds like something from the Stone Roses. "Square One" finds Beck going in and out of his falsetto beautifully to create a perfect slice of shimmering pop.
Perhaps the most unconventional song is "Wow," a trippy, cowboy-dance hip-hop tune that swipes the theme from The Good, The Bad and The Ugly and adds it to lyrics seemingly inspired by some weed. ("Wow/ It's like right now/ It's like wow.") It should not make sense. But this is Beck, and he somehow makes it so. Actually, that goes for the whole CD too.
— MARK KENNEDY, Associated Press
WONDERFUL WONDERFUL
The Killers (Island)
The Killers have been away nearly as long as LCD Soundsystem, but there's strangely little urgency surrounding Wonderful Wonderful, their first album in five years. Brandon Flowers and Co. led the wave of synth-dependent bands who've dominated alt-rock for the last decade, but it's their sheer goofiness ("Life to Come" implores us to "dropkick the shame") and knack for dynamite singles, not their albums, that's ensured their place in the pantheon.
Wonderful Wonderful is their most anonymous effort since 2008's "Day & Age," which is unfortunate, considering its two standouts: "The Man," an excessively silly Miami Vice-style theme song (the cash-register noise!), and "Run for Cover," which targets the Trumpocalypse more explicitly than anything on the LCD record, rhyming "progenitors" with "senators" and "apology" with "toxicology." Both are singles.
— DAN WEISS, Philadelphia Inquirer
TRYPNOTYX
Victor Wooten Trio (Vix Records)
The frenetic, high-octane pace set at the beginning of this album showcases the great Victor Wooten's enormous talents on the electric bass, but it also sets the stage for a disc of complexity and sophistication in the modern jazz genre that's hard to match.
Few bassists since the late Jaco Pastorius was at the peak of his career with Weather Report in the 1980s have taken command of bass solos like Wooten, even if his style is a little more tinged with rock, funk, and hip hop rhythms.
This is five-time Grammy winner Wooten's first album in five years, and the trio is rounded by hot licks from drummer Dennis Chambers and saxophonist Bob Franceschini. Wooten's trio is on tour now and will appear Oct. 26 at the Ark in Ann Arbor. It will follow up that show with three other successive gigs in this region, shows in Columbus, Fort Wayne, and Cleveland.
Wooten was named by Rolling Stone as one of the Top 10 bassists of all time. He recently wrapped up a tour with Bela Fleck & the Flecktones, a group of which he was a founding member. This disc is captivating from start to finish, the last song being a fine piece called "Cupid," which includes a sylvan flute, deep lyrics, and spoken word exchanges between Wooten and his children.
— TOM HENRY, The Blade
Guidelines: Please keep your comments smart and civil. Don't attack other readers personally, and keep your language decent. Comments that violate these standards, or our privacy statement or visitor's agreement, are subject to being removed and commenters are subject to being banned. To post comments, you must be a registered user on toledoblade.com. To find out more, please visit the FAQ.