An offbeat comedy by Pulitzer Prize-winning playwright David Lindsay-Abaire opens Friday at the Toledo Repertoire Theatre.
In Ripcord, two women are sharing a room in the the Bristol Place Senior Living Facility, and it doesn't look like they'll live happily ever after. Abby enjoys living alone in her room with a nice view, but she's unhappy when she has to share it with newcomer Marilyn.
A war of personalities soon breaks out between the acerbic Abby, portrayed at the Rep by Fran Martone, and cheerful Marilyn, played by Barbara Barkan.
"The conflict between them is funny and engaging, and sometimes endearing, and I've never seen anything like it onstage or onscreen before," director Matthew Gretzinger said. "I also think that we rarely see this side of life rendered in art — people tend to treat older human beings, our elders, as invisible. We lose so much by doing that because these characters have so much to say to us." He was drawn to Ripcord after reading another of Lindsay-Abaire's plays, Fuddy Meers, "which has that dark, weird humor that I like very much."
The play's title comes from a scene where Abby and Marilyn go skydiving, Gretzinger said. "One of the characters compares jumping out of an airplane to life — "You gotta pull the ripcord, baby!" In other words, if you hide yourself away under a bush somewhere and never walk the earth or have adventures, you won't ever really live."
The director said he thinks audiences will love that message, and the relationship between the two women, who are complete opposites but in some ways very much alike.
Performances of Ripcord are Friday and Saturday at 8 p.m. at the theater, 16 10th St. Additional shows are Jan. 19-20 at 8 p.m. and Jan. 21 at 2:30 p.m.; and on Jan 25, 26, and 27 at 8 p.m. and Jan. 28 at 2:30 p.m. Tickets, $20 general admission, $18 seniors, are from toledorep.org or 419-243-9277.
Star story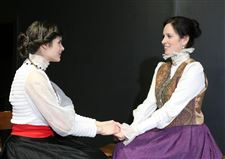 Elizabeth Cottle, left, stars as Henrietta Leavitt and Marissa Rex as Margaret Leavitt in "Silent Sky," part of the Valentine Theatre's Studio A Series.
Silent Sky, the latest production in the Valentine Theatre's Studio A Series, tells the story of Henrietta Leavitt, a real-life 19th-century astronomer whose story is a reminder, if we need one, that issues of gender equality have been around for a long time.
Leavitt was an 1892 graduate of Radcliffe College who went to work, first as a volunteer, at the Harvard College Observatory as one of the women "computers" studying photographic plates to measure and record the brightness of stars. But unlike her male co-workers, she was not allowed to use the observatory's refracting telescope.
Despite challenges, her work led to the key to measuring the distance between Earth and other galaxies, paving the way for discoveries by other astronomers, including Edwin Hubble.
Elizabeth Cottle, who portrays Leavitt, describes her character as fiery and dedicated to her passion, her work.
"It is shocking that only in recent years, with movies such as [2016's] Hidden Figures, about African-American female mathematicians who worked at NASA during the Space Race, and this play, that attention is finally on women," Cottle said.
The cast also includes Marissa Rex as Margaret Leavitt, Cindy Bilby as Annie Cannon, Ann Cross as Willamina Fleming, and Jeremy Allen as Peter Shaw.
Lauren Gunderson, who wrote Silent Sky, was named the most produced playwright in America by American Theatre Magazine in 2017.
Gunderson has written a lot in a short time, said Silent Sky director Jeffrey J. Albright.
"She writes very smart plays, not so smart that the average person can't understand them, but she writes a lot about scientists and art and history, she likes to explore historical figures." Silent Sky is not a heavy play, he added. "There's a little bit of romance, some humor, and some drama," handled with a light touch.
The biggest message that audiences can take from Silent Sky is "we're all connected," Albright said. "As big and as vast and as lonely as it [the world] can seem, everyone is connected somehow."

Performances of Silent Sky are at 8 p.m. Friday and Saturday and at 2 p.m. Sunday in Studio A; the entrance is on Adams Street around the corner from the Valentine's main entrance. Additional shows are 8 p.m. Jan. 19-20 and 2 p.m. Jan. 21. Tickets are $20 and available from 419-242-2787, valentinetheatre.com, and in person at the box office, 400 N. Superior St., from 10 a.m. to 5 p.m. Monday-Friday, and on show days at the Studio A door, half an hour before curtain.
Contact Sue Brickey at sbrickey@theblade.com.
Guidelines: Please keep your comments smart and civil. Don't attack other readers personally, and keep your language decent. Comments that violate these standards, or our privacy statement or visitor's agreement, are subject to being removed and commenters are subject to being banned. To post comments, you must be a registered user on toledoblade.com. To find out more, please visit the FAQ.