Crystal Bowersox was resting at her home in Nashville last week after a long trek on the road in which her van broke down while in Montana for a gig, followed by a lengthy drive through some nasty winter storms, when a friend from high school texted her this: "I'm sorry your mom's house burned down."
The recording artist and American Idol runner-up from Elliston, Ohio, in Ottawa County, was dumbfounded.
"I called my mom and she didn't answer," Bowersox told The Blade in a phone interview Saturday evening. "I called my brother and he didn't answer. There was a 90-minute waiting period where I didn't know if my mom was alive."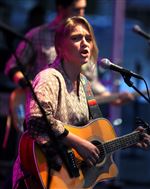 Crystal Bowersox performs at Promenade Park in July of 2017.
The Blade
Enlarge | Buy This Image
Her mother, Kelly Lynn Bowersox, 55, was alive and well. In fact, the elder Bowersox was staying at a friend's house the night of the fire. But the home, a two-story rustic farmhouse built more than a century ago that was a significant part of Bowersox's childhood, is a total loss, she said.
"I asked my brother if there was even any salvageable wood so that maybe I could build a memorial art piece," Bowersox said. "He doesn't know if there's anything good enough for that."
Wanting to help her mother but not able to get back home for at least a few more days, Bowersox created a GoFundMe page on Thursday to raise money to help cover any costs the homeowner's insurance policy didn't. She initially set the goal at $5,000, and included a thousand dollars of her own.
"We blew right past it," she said. So she doubled the goal to $10,000, and by Saturday the GoFundMe donations had exceeded that. At deadline late Saturday, the total raised was $11,460 by 172 people.
Some of them are fans, she said, while others are friends or acquaintances of her mother, and others are people she's never met. And she's thankful to all of them.
"I'm absolutely astounded, amazed, and grateful," she said. "It's really incredible how kind people can be. I hope there's some way I can repay the kindness of these people. I'll have to figure it out."
She would like to perform a free concert, perhaps, for those who have helped and will help, but that will take some time and work.
"It's not as simple as just showing up," Bowersox said.
Bowersox said she is not sure what her mother will do: rebuild, rent a new place, or perhaps move to Nashville to live with her daughter and 9-year-old grandson. As for some criticism that the former American Idol contestant could and should buy her mother a new home, Bowersox said the perception that her success on the show made her rich simply isn't true.
"People think that if you were on television that you must be a millionaire. That's not the case," she said. "I'm an independent artist. I make a living. I run my own business and I take care of myself and my son. I don't play gigantic venues, but I'm doing my best."
Donations to Kelly Bowersox can be made at www.gofundme.com/​Bowersox.
Contact Kirk Baird at: kbaird@theblade.com or 419-724-6734.
Guidelines: Please keep your comments smart and civil. Don't attack other readers personally, and keep your language decent. Comments that violate these standards, or our privacy statement or visitor's agreement, are subject to being removed and commenters are subject to being banned. To post comments, you must be a registered user on toledoblade.com. To find out more, please visit the FAQ.