It's not every day that a small band from northwest Ohio gets the chance to perform before 80,000 enthusiastic music lovers, but that's precisely the opportunity awaiting Waterville indie/folk trio Oliver Hazard.
Earlier this week, the band was announced as part of the 2018 Bonnaroo Music and Arts Festival in Manchester, Tenn.
It took a while for the news to register, says guitarist and vocalist Mike Belazis.
"We weren't even excited in a way because we almost didn't believe it," Belazis says. "We were in such disbelief that we didn't want to get excited about it, like there's no way this is actually happening.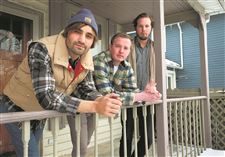 Oliver Hazard band members, from, left, Mike Belazis, Griffin McCulloch, and Devin East will perform at Bonnaroo June 7.
The Blade/Jetta Fraser
Enlarge | Buy This Image
"For days after, we were texting each other about it. It was a dream, almost. It didn't seem real."
This year's acts include Eminem, Muse, The Killers, Future, and more than 90 other artists who will perform in an atmosphere that has attracted hundreds of thousands to the 700-acre Great Stage Park since the festival launched in 2002.
The band was selected for the lineup ater its management company and agent sent music and live performances to the festival for consideration.
"There's bands that have played for years and years and years and don't get to do this, and we barely play and we're going," says multi-instrumentalist Devin East.
"We're just grateful that the music got into the right hands," adds fellow band member Griffin McCulloch.
The band's excitement is hardly tempered by the fact they won't be playing on the main stage. Instead, they'll perform on the new artist stage on the festival's opening day, June 7.
VIDEO: Oliver Hazard
Oliver who?
The creaky front screen door struggles to fully latch itself shut upon entering "The House," allowing a small blast of cold air into the living room before McCulloch manages to close the second. The temperature outside is a solid 15 degrees in Waterville.
Various paintings hang randomly on the living room walls. A large map of the United States dangles to the left of the front door with handfuls of funny, explicit brief sayings on different states. It's not surprising to see that Ohio is heavily outlined by a Sharpie.
McCulloch and his bandmates, Belazis, 27, and East, 26, walk into the next room where different styles of guitars sit on the floor, along with three microphones and various other instruments. This room of the two-story house is their rehearsal space, yet the friends have never established a name for the area.
Belazis starts describing the current mindset of Oliver Hazard.
"At this point it's been self-preservation," he says, leaning forward in his chair and resting both elbows on his knees. At the time of the interview, the band has only played four shows as Oliver Hazard and has only existed as a band for one year.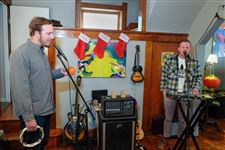 Devin East, left, and Griffin McCulloch of Waterville band Oliver Hazard.
The Blade/Jetta Fraser
Enlarge | Buy This Image
Building the band
The band says its name was inspired by Oliver Hazard Perry, the victorious American naval commander in the Battle of Lake Erie during the War of 1812.
In December, 2016, Belazis was visiting his hometown of Perrysburg for the holidays. At the time he was living and working in San Francisco at a seasonal job where he led expeditions through the mountains. Because of bitter cold temperatures during the winter, he would get a month off from work and travel across the country to northwest Ohio. He spent most of his time at "The House," where both McCulloch and East live and write songs. In a matter of a few weeks, the guys had written about 10 songs.
"We regurgitate songs," says McCulloch. "We literally just throw them up, like they just fall out of our mouths sometimes."
"I was afraid that what if we sit down and we can't write together," adds East. "Luckily, we can gel with writing. It's really hard to write with other people, but if it's a good chemistry it's really easy."
The band entered a Facebook raffle about a week later for a chance to record two free songs at Bigfoot Studios in Maumee. To the band's surprise, it won.
Belazis convinced the studio to record the 10 songs the band had written completely live rather than record only a few tracks. That meant using the back of a suitcase as a kick-drum, banjos, guitars, microphones plugged in for all three musicians to incorporate harmonies, and various other instruments. The songs were then spliced into 10 separate tracks. The entire session took just two hours.
At this point, the band didn't yet have a name but decided to send the finished album to a small online record label known as R&R Digital in Los Angeles.
"This record label was interested in working with us; they were like, 'But what's your name?' " says Belazis as the room fills with laughter.
The name Oliver Hazard was adopted in January, around the same time the album was sent to Mixed Management, the company behind R&R Digital.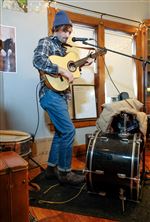 Mike Belazis of Waterville band Oliver Hazard.
The Blade/Jetta Fraser
Enlarge | Buy This Image
'Undeniable' music
Sam French, Oliver Hazard's Los Angeles-based manager, calls the trio's music "undeniable" in a separate interview with The Blade. He says he was sitting next to someone from Mixed Management who pulled up his email and started playing the band's music.
"I remember sitting in the office at lunch time," French says. "He played the music and within two minutes we were dancing around the office. It was incredible."
He says Oliver Hazard's music is inspired by a reality where the guys work full-time jobs and come home exhausted and still find time to rehearse.
"These guys are 100 percent real," he says. "When I'm listening to songs from them they come from an emotional depth. I don't know anyone [else who has] these charged songs. There is nothing in any way fake about it."
Work started to pick back up for Belazis in San Francisco in January, 2017, and he flew back to California and continued his job until November. During this time the band was forced to collaborate together on songs over the phone.
"[McCulloch and East] would both send me songs where they were doing these harmonies and I would be in my car in San Francisco listening to them harmonize and trying to learn how to throw the third one on it while I'm just driving around," Belazis says.
Less than a handful of shows were performed throughout 2017. The band perfomred every three months when Belazis had time to briefly fly home during time off from work. Oliver Hazard's only song released to the public is its upbeat, heavily harmonized acoustic jam "Caesar Knows." The single has seen more than 175,000 streams on Spotify since its release in November.
The band expects its debut album to be released in early summer. In the meantime, the guys will load their gear into a van and embark on the eight-hour drive to Manchester in June.
"We know we have to push ourselves," East says. "It's going to be a big day. If we play a really good show, I think it's going to be better for us."
"Yeah, we're nervous, but we know we got the chops to back it up," adds McCulloch.
Contact Geoff Burns at gburns@theblade.com or 419-724-6054.
Guidelines: Please keep your comments smart and civil. Don't attack other readers personally, and keep your language decent. Comments that violate these standards, or our privacy statement or visitor's agreement, are subject to being removed and commenters are subject to being banned. To post comments, you must be a registered user on toledoblade.com. To find out more, please visit the FAQ.