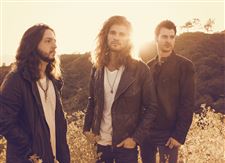 Country group Levon will kick off the New Artist Series on March 31 at the Stranahan Theater and Great Hall. Tickets are $20-$35 and go on sale Wednesday.
The Stranahan Theater and Great Hall and K100 (99.9 FM WKKO) have partnered to present the New Artist Series, which kicks off March 31 with country band Levon.
Tickets cost $20-$35 and go on sale at 9 a.m. Wednesday. They can be purchased at stranahantheater.org or at the venue's box office.
The new music series will bring in new country music artists to the Great Hall. While Levon is the only concert currently scheduled for the series, all shows will be hosted in the Great Hall at the Stranahan Theater, 4645 Heatherdowns Blvd. The Great Hall will be transformed into a nightclub with pub tables, a VIP area, and food and beverages available.
Known for its hit song "Ms. Marianne," Levon performs at 7 p.m.
Guidelines: Please keep your comments smart and civil. Don't attack other readers personally, and keep your language decent. Comments that violate these standards, or our privacy statement or visitor's agreement, are subject to being removed and commenters are subject to being banned. To post comments, you must be a registered user on toledoblade.com. To find out more, please visit the FAQ.