The cowboy look was on full display when Little Big Town appeared at the Huntington Center on Feb. 17. Women, men, and children transformed the Toledo landscape into a scene from a Colorado dude ranch or an Alabama street.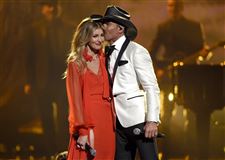 Faith Hill and Tim McGraw have two shows at the Huntington Center in June.
Chris Pizzello/Invision/AP Enlarge
By the next morning, the western clothing and foot attire were nowhere to be seen downtown.
Twenty-five-year-old Toledoan Devon Saunders laughs at the observation.
"It's true — flannels, jean shorts, jeans, cowboy boots. They are the things to wear at concerts. A lot of my friends only buy them when a concert is coming," she says.
The cowboy boots will get a lot of wear and tear this year. Toledo has become a major stopping point for some of Nashville's biggest stars. Luke Combs and Little Big Town have already been here this year. On March 23, Alan Jackson will appear at the Huntington Center. Chris Young, Brett Eldredge, Tim McGraw and Faith Hill, Sugarland, and Keith Urban have dates planned in 2018.
There will be other country concerts announced in the weeks ahead. Luke Bryan, Jason Aldean, and Florida Georgia Line have made appearances in recent years. Add in county fairs, shows at Centennial Terrace, and big music festivals in Brooklyn, Mich., and Fort Loramie, Ohio, and country artists have been wearing out roads around the region.
A number of factors are driving the attention from Music City, but more than anything, Nashville has recognized that the Toledo region is simply crazy for country music.
ON THE DOCKET:

Country acts scheduled for Toledo in the months ahead
• March 23: Alan Jackson, Huntington Center
• March 31: Levon, Stranahan Theater
• May 3: Brett Eldredge, Stranahan Theater
• May 4: Chris Young, Huntington Center
• June 8, 9: Tim McGraw and Faith Hill, Huntington Center
• Aug. 9: Sugarland, Huntington Center
• Oct. 18: Keith Urban, Huntington Center
Country acts and events scheduled for the region in the months ahead
• June 14: Alison Krauss, Centennial Terrace, Sylvania
• July 5-7: Country Concert, Fort Loramie, Ohio
• July 20-22: Faster Horses Festival, Brooklyn, Mich.
The Radio Man
Gary Shores has been at his radio gig for a long time. He hosts WKKO-FM 99.9's morning drive show solo these days, since his longtime friend and radio partner of 23 years, Harvey Steele, died in December. Shores has been on the air in Toledo for 43 years and has been at K-100 since the station's inception in 1981. The country music station has been the undisputed ratings champion of Toledo's airwaves for the last 20 years. But even he is amazed by the traffic from Nashville.
"This is by far the biggest country concert year we have had in Toledo," he says.
Country music is the most popular radio format in the United States — and it is not even close — with more than 2,000 stations. But the genre continues to reinvent itself, expanding its base and making itself more appealing to larger segments of the population. In recent months, Florida Georgia Line has collaborated with Bebe Rexha, Carrie Underwood worked with Ludacris, and Chris Stapleton appeared on Justin Timberlake's "Say Something." Within the format, more diverse artists are drawing in even more listeners.
"This format is so huge. We had that bro-country, country rock sound with Florida Georgia Line and Jason Aldean. They are a little edgier," Shores says. "And now, we're seeing groups like Midland and another one called High Valley. They are bringing back that older country sound, so it's giving our format a lot more variety and a lot more depth."
It is good times for the format, but Shores jokes, "I hope we look back in five years and wonder why country music wasn't as popular in 2018."
The high-powered and visually alluring concerts are a boost for the format, but at its core, the lyrics drive the popularity, he says.
"The music is relatable. I don't care if you are 20 or you're 80. An 18-year-old might relate to a guy and a girl in a breakup song as a boyfriend and a girlfriend. And a guy who's 80 might be thinking of it as a couple who has been married for 50 years breaking up. We all relate somehow."
The arena
When the Huntington Center opened in 2008, it immediately became known as the home of the Toledo Walleye minor league hockey team. But under the leadership of Vice President Steve Miller, the arena has become one of the most desirable medium-sized venues in the Midwest.
Previously, Toledo could attract concerts to the Sports Arena, SeaGate Convention Centre, and even the University of Toledo. The city could not, however, offer a venue with the modern amenities, seating capacity, and sound quality of the Huntington Center. It has earned national awards and has been nominated in recent years by the Academy of Country Music for Medium Capacity Venue of the Year. Fans like coming to the arena. There is an outside chance that every country music show staged this year at the Huntington Center will be a sellout.
"It comes down to the fact that this market sells tickets. It makes a huge difference for us that pretty much every show, from the home runs like Luke Bryan and Jason Aldean to the fringe acts, sell really well. The sales are so strong that they really put Toledo on the map," Miller says. "Another thing is the size of our building. Being a 7,000 to 8,000-seat venue, that's right in the wheelhouse for 95 percent of the country acts that play."
It is extremely rare for a market the size of Toledo to obtain a "double" for a major world tour like Tim McGraw and Faith Hill, but it happened. The superstars will be at the Huntington on June 8 and 9.
"It's a huge opportunity for us to prove that we can sell a lot of tickets. The first date was selling so well that the touring group said let's hold a second date, and it has worked out great," Miller says.
The danger is that a smaller market like Toledo can take on too many concerts and be embarrassed by a box office flop. However, the city is centrally located, enabling fans to make easy drives from Cleveland, Detroit, Fort Wayne, Ind., and even Chicago.
"We've got eight shows on the book, and at least five will sell out. To me, that means that there is money in the market and people are able to pick and choose shows, or even come to all of them," Miller says.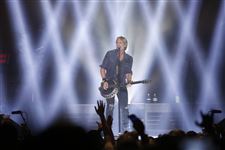 Keith Urban performs at the Huntington Center in downtown Toledo in 2016. Urban returns to the venue for an October 18 show this year.
The Blade
Enlarge | Buy This Image
The promoter
Brian O'Connell is a giant in the country music industry.
As Live Nation's president of country touring, Nashville-based O'Connell sets the routes and dates for the industry's biggest tours, including for Bryan and Aldean. He is the man behind the increasingly popular Faster Horses Festival in Brooklyn, Mich., which will be headlined in July by Blake Shelton and Florida Georgia Line.
The Huntington Center is a proven winner for O'Connell.
"It's a beautiful building. Steve Miller has done a great job. The artists like playing it. It's the right size for the market. People in that area, they like going to shows and they like the building," O'Connell says. "You add all that up and 'boom,' you have success."
But other factors, unrelated to Toledo, work in the area's favor whenever it comes to attracting big talent.
"There are 31 NHL teams and 30 NBA teams. There are only so many of those places. There is not an 18,000-seat arena every five blocks. It becomes a mixture of 8,500-seat buildings, 15,000-seat buildings, 20,000-seat amphitheaters, maybe a stadium or two. If you want to do 50 hard-ticket shows, you're out of buildings. There are only so many Clevelands," O'Connell says.
"We know we sell tickets in Toledo. It's a good experience for the band and the fans. If you continually sell tickets, you're going to attract other artists."
The superfan
For Devon Saunders, there is no mystery about country music's popularity in Toledo. She took her 6-year-old daughter Kinsley to her first show when she was only 6 months old.
The words appeal to her, and she echoes Gary Shores' belief that everyone can relate to the lyrics.
Her boyfriend, Troy, was a convert. He originally believed the negative stereotypes associated with country music.
"But it really got him when he started listening to it. He got into Sam Hunt, Jason Aldean, and Luke Bryan," Saunders says. "After listening to them, he said, 'I never realized it, but it's like they are singing about me. All the songs apply to me.'"
As she tells The Blade her boyfriend's story, she has just returned home from buying Chris Young tickets and has her eye on several other shows.
She has lived in Toledo since she was 2 and has no doubt where the city's allegiance lies when it comes to music.
"It doesn't matter who you are; when you are listening to country music, you are having a good time," she says. "You can yell out lyrics, and everyone is right there with you. You can go to any bar in town, and nine out of 10 will play at least some country music. If you go anywhere in Toledo, you hear country music."
Contact Brian Dugger at bdugger@theblade.com or on Twitter @DuggerBlade.
Guidelines: Please keep your comments smart and civil. Don't attack other readers personally, and keep your language decent. Comments that violate these standards, or our privacy statement or visitor's agreement, are subject to being removed and commenters are subject to being banned. To post comments, you must be a registered user on toledoblade.com. To find out more, please visit the FAQ.