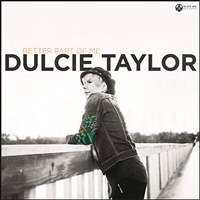 Dulcie Taylor's 'Better Part of Me.'
BETTER PART OF ME
Dulcie Taylor (Black Iris Records/​MesaBlueMoon Recordings)
Dulcie Taylor's soul-searing lyrics can be inspirational, thought-provoking, and penetrating. On this, her seventh album, the smooth guitarist and singer-songwriter does a fine job of mixing folk and blues with hints of country for a sound that is both weathered and wise, but also fresh and hopeful.
In addition to her laid-back, road-weary sounds on acoustic guitar and dulcimer, Taylor riffs on anything from love to religion to the environment, with a pleasant, calming voice that is about as sophisticated as it is soothing.
She sings in a matter-of-fact way about how "hearts have to break" sometimes in the best of relationships, while also offering a joyous vibe about a lover who "put the song in my soul" and "the beat in my heart" while also singing about hurt and pain.
Taylor's been recording for 18 years now and does this release with 15 musicians who complement her unique style.
Guidelines: Please keep your comments smart and civil. Don't attack other readers personally, and keep your language decent. Comments that violate these standards, or our privacy statement or visitor's agreement, are subject to being removed and commenters are subject to being banned. To post comments, you must be a registered user on toledoblade.com. To find out more, please visit the FAQ.