LaCrosse brings donations, awareness to Lucas County Canine Care and Control
7/11/2018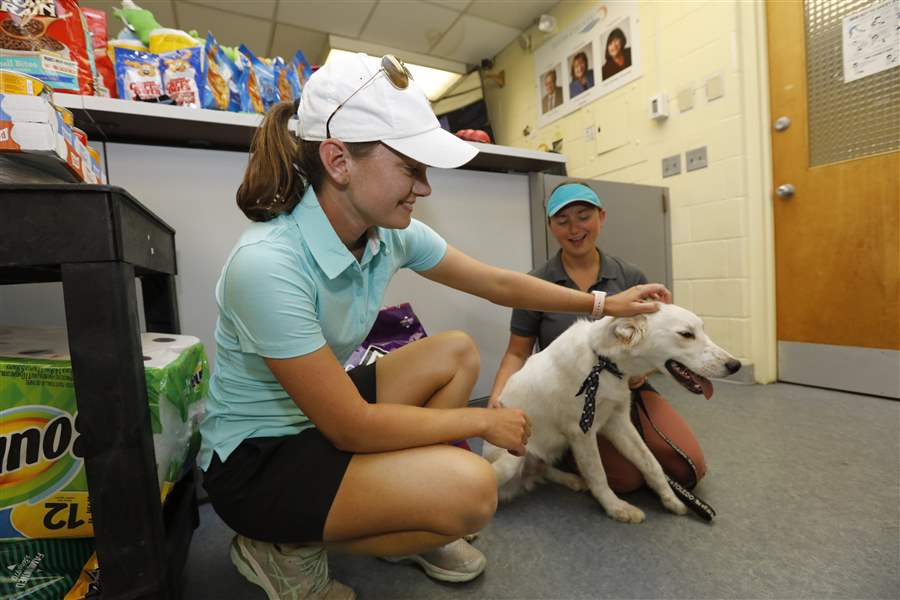 LPGA pro Cindy LaCrosse speaks with Laura Simmons-Wark, Community Outreach Coordinator, as they pet Mulligan during a visit to the Lucas County Canine Care and Control on Tuesday.
The Blade/Andy Morrison
Buy This Image
Every stop Cindy LaCrosse makes on the LPGA Tour, Fitz is never too far from her mind.
Four years ago, Miss LaCrosse adopted her dog from a shelter in Florida, a black-and-white mutt she calls a "goofball." And Fitz has served as an inspiration for her generosity and charity to animal shelters across the country.
Every city she visits as a professional golfer is graced by some donations, good will, and a visit from Miss LaCrosse. She made a stop at the Lucas County Canine Care and Control Center on Tuesday.
"I hope that it's making a difference," she said. "I hope that at the very least people are reminded to bring old sheets, old blankets, stuff they don't need anymore by the shelter, and then stop at the store and get things they need. My hope is that dogs get adopted from a picture I post, it's been neat to see people who want to help as well."
To read more, download Blade NewsSlide at bladenewsslide.com