Welcome, Mayor Kapszukiewicz, to the world of public transportation ridership in Toledo. I hope we're in for a great ride.
I first took the bus out of necessity more than two years ago. I soon realized it wasn't a bad way to get to work (and, yes, I'm a downtown professional) and became carless by choice in the Glass City, making it official when I sold my car last year.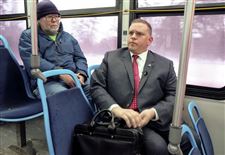 Richard Arnold, left, and Mayor Wade Kapszukiewicz on a TARTA bus January 8, 2018. During his campaign, Kapszukiewicz said he will not use a city car and will take a TARTA bus to work once a week.
THE BLADE
Enlarge | Buy This Image
I feel I better serve my community when I get to know it intimately. Riding the bus has been a great way to get to know the city and the people of the city since coming to The Blade in spring, 2015.
On a recent commute to work, I witnessed a woman being assaulted by her boyfriend at the bus stop. When the bus driver allowed her onto the bus and not him, I sat with her at her request, comforted her, then walked her to the police station to get a report filed as she tried to flee her violent living situation. As I was leaving, she hugged me and called me her angel.
Another time, I witnessed Rogers High School students, who were said to be a major problem on the bus, act admirably several times. A fill-in bus driver missed a stop, leaving an elderly rider behind. A Rogers student asked and walked back and escorted the rider to where the bus had stopped. On the same ride, the driver forgot to stop at Lott Industries, where it picked up developmentally disabled people from their jobs. The 15 to 18-year-olds on the bus began screaming to alert the driver that she had missed a pickup. They clearly cared.
I became friendly with two brothers who work at a greenhouse on South Avenue. One day they brought me a potted gerbera daisy and a dozen ears of corn for no reason other than to be friendly.
I was also happily surprised to witness the character and politeness of the Jones Leadership Academy students who ride my line.
Another time an adolescent was being unruly. The bus driver threatened to stop the bus and kick him off. The boy even sneered at me when I shot him a look after one of his outbursts.
The next day I was fiddling with my phone when the same boy boarded the bus. He saw that I was playing a game that he liked and sat next to me. He and I (a woman in her late 30s) played Pokemon Go together for 20 minutes, and this troublemaker became a model bus passenger. It was nice to see the change that can occur in a child when an adult takes an interest in him and treats him with respect.
Yes, TARTA has its problems. I've been on buses that have broken down. I fear sometimes I might be the only one on that bus with the resources to summon an Uber or Lyft and make it to my destination on time.
Additionally, I see many problems with TARTA's mobile app, "Find My Bus," the most obvious being that used buses purchased from cities around Ohio don't have GPS tracking systems in them and cannot be tracked in the app.
Most of all, I hope TARTA can expand its hours. I can get to work, either at 4 p.m. or 6 p.m., but have to find another ride home at midnight or 2 a.m. As The Blade has editorialized, "TARTA needs to decide if it's a social-service agency that exists to help the poor or an infrastructure intended to serve the whole community."
In a Blade editorial of Sept. 6, 2016: "Transit can strive to attract riders who own their own cars or who can afford Uber, Lyft, or taxi fares."
As someone who can afford another, more private mode of transportation, I second that.
While things could be better, and I'm glad, mayor, you've promised to look into transit's future in Toledo, my opinion on it is simple: If I can spend my last 30 minutes before a stressful day, relaxing, snoozing, reading, or even just checking my social media sites rather than fighting traffic, that makes my day better, which is a big reason I'm a bus rider.
I hope you get that same relaxation when you ride the bus.
Rona Proudfoot is an assistant news editor for The Blade.
Guidelines: Please keep your comments smart and civil. Don't attack other readers personally, and keep your language decent. Comments that violate these standards, or our privacy statement or visitor's agreement, are subject to being removed and commenters are subject to being banned. To post comments, you must be a registered user on toledoblade.com. To find out more, please visit the FAQ.