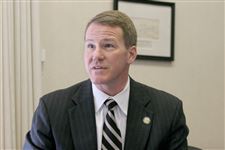 Ohio Secretary of State Jon Husted
The Blade
Enlarge | Buy This Image
Ohio and its workforce are in high demand.
I've seen this first-hand traveling across our great state to meet with entrepreneurs and job creators. Many of these businesses are taking innovative steps to grow jobs and address their workforce needs.
Yet, even as industry leaders turn to Ohio to set up shop, they continue to face challenges in finding the job-ready workforce they need.
As I write this, there are more than 130,000 open jobs listed on OhioMeansJobs.com. Of those jobs, roughly 50,000 of them pay $50,000 or more per year. Additionally, the website lists more than 1,800 internships that are available to Ohioans in hopes of developing the skills and talent to serve industries of the future.
Plenty of opportunities for new and exciting careers are available to Ohioans who are interested, but sometimes an extra step is needed to make the connection with employers.
The good news is that many companies are helping current and prospective employees to hone the skills needed to pursue a lasting career. Various businesses are partnering with local career centers and community colleges to create job-specific curriculum, while others have created apprenticeship programs that introduce high school students to careers in the skilled trades.
Great examples of this can be found throughout Ohio at facilities like Penta Career Center in Perrysburg. Vocational schools and career centers like Penta provide students with an education while allowing them to earn industry credentials without having to shoulder the type of student debt that can come with a four-year degree. Such programs are helping Ohio to train and develop a workforce with the job-ready skills needed for today and years to come.
To draw added attention to our state's workforce needs, my office declared last month as "You're Hired" Month through the Ohio Business Profile program. Throughout January, we highlighted four homegrown companies that are committed to actively training and developing the skills of their employees so they may be successful for years to come.
The companies included APT Manufacturing Solutions in Hicksville, Automatic Feed Co. & Laser Coil in Napoleon, Henny Penny in Eaton, and Suburban Manufacturing Co. in Eastlake. All of these companies have found unique and innovative ways to answer today's workforce demands.
Founded in 1996, APT Manufacturing Solutions builds custom machines for manufacturers around the globe. In 2014, the company launched a high school training center and apprenticeship program connecting young students to the skilled trades. The Suburban Manufacturing Co. in Eastlake has also implemented an apprenticeship program to further foster the success of the company and its employees. In fact, nearly half of the company's employees have already achieved journeyman status by completing the apprenticeship.
Automatic Feed, a manufacturer of coil handling and press feeding solutions, established the Northwest Ohio Learning Center for Manufacturing Sciences. The center is a partnership involving the company, Northwest State Community College, Napoleon Machine, and Napoleon area schools to promote the manufacturing industry. Area high school students have access to a curriculum that features a mix of classroom and hands-on training. Students completing the program are eligible for both high school and college credit.
At the employee-owned Henny Penny, everyone is encouraged to undergo 40 hours of training per year. The training is offered in-house and provides workers with the opportunity to continuously advance their professional development through a series of seminars and certifications.
The success and ingenuity of these four companies are just a sample of the similar work unfolding across our state. Businesses are working hard to grow our economy and create new opportunities within their communities. By tapping into and investing in Ohio talent, these companies are expanding our economy and forging a promising road toward the future.
However, to win that future, our state's leaders must encourage and support efforts that help to ensure all Ohioans are job-ready after high school, college, or later in life. Based on what I have seen, I am confident that we can win the future and more job creators will choose our state to set up shop because of all Ohio and its people have to offer.
Jon Husted is Ohio's Secretary of State and a canidate for lieutenant governor.
Guidelines: Please keep your comments smart and civil. Don't attack other readers personally, and keep your language decent. Comments that violate these standards, or our privacy statement or visitor's agreement, are subject to being removed and commenters are subject to being banned. To post comments, you must be a registered user on toledoblade.com. To find out more, please visit the FAQ.