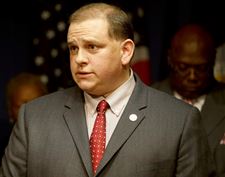 Mayor Wade Kapszukiewicz
The Blade/Kurt Steiss
Enlarge | Buy This Image
As Toledo looks toward the upcoming election, it is important we elect representatives who can deliver for Toledo, stand up to the President when necessary, but also work with the President when it is the right thing for Ohio.
I often hear from Toledoans who are concerned that national leadership is working against our interests. I tell them our federal government is challenging but also that in Sherrod Brown we have an advocate in the Senate who will work with anyone to fight for Toledo and our state. He has the ability to work with Democrats and Republicans to solve problems and to put Ohio first.
Immediately after the 2016 election, Sen. Brown sent President-elect Trump a detailed letter that laid out the ways they could work together to level the playing field for workers left behind by decades of unfair trade policies.
I know Sen. Brown is proud to work with the current administration, with President Trump, and with Ohioan Bob Lighthizer, our U.S. Trade Representative, to create better trade policies for those workers. Sherrod is ready to work with the President to improve our trade agreements to protect Ohio manufacturing jobs while also assuring that Ohio jobs that depend on trade can continue to grow.
Senator Brown came together with Republicans and Democrats to pass legislation to fight the opioid epidemic, keep our first-responders safe, and make sure our veterans can get the care they need — key priorities for our state. Like all of Ohio, the city of Toledo is fighting the opioid epidemic on multiple fronts and we have had broad support from representatives in both parties.
Toledoans remember the August, 2014, do-not-drink water advisory. When President Trump tried to slash the budget for the Great Lakes Restoration Initiative, which creates jobs in Ohio and keeps communities like Toledo safe and healthy, Sen. Brown worked with Sen. Rob Portman to make sure the program was fully-funded.
Sherrod has encouraged President Trump to make good on his campaign promise and take a strong approach to investing in our infrastructure. We should be putting thousands of Ohioans to work rebuilding our bridges and roads, strengthening rural broadband networks, and keeping our communities safe from lead poisoning. We should be doing it with American-made materials, to make sure that our taxpayer dollars support the businesses in our communities. When the infrastructure plan that President Trump unveiled fell short of that, Sen. Brown demanded better, and I know that he will continue to work to see that plan through.
We know here in Toledo, Sen. Brown will continue to work to ensure that every Ohioan has access to quality, affordable healthcare. That includes all of us in Toledo and northwest Ohio. When the Trump administration tried to defund and weaken the Affordable Care Act, Sen. Brown fought back and worked to make sure Ohioans with pre-existing conditions can get covered. The Senator protected the Medicaid expansion that has helped more than 700,000 Ohioans get healthcare, including critical treatment for those struggling with addiction.
I am proud to say I support Sen. Brown's efforts to bring down the costs of care for older Ohioans by increasing competition and allowing Medicare to negotiate with drug companies to get the best possible deals. This is something President Trump has talked about, and something that Sen. Brown would be happy to join him in achieving for all Ohioans.
The duty of our U.S. Senators is to the people of Ohio and I know Sen. Brown takes that duty very seriously. Ohioans don't care whether a person has a D or an R next to his or her name. Instead, they care more that the job gets done. I know Sen. Brown will continue to fight to deliver the results Toledoans and all Ohioans deserve.
Wade Kapszukiewicz is the Mayor of Toledo.
Guidelines: Please keep your comments smart and civil. Don't attack other readers personally, and keep your language decent. Comments that violate these standards, or our privacy statement or visitor's agreement, are subject to being removed and commenters are subject to being banned. To post comments, you must be a registered user on toledoblade.com. To find out more, please visit the FAQ.