Neighbor Jennifer Lopez cried as she watched emergency crews carry a little girl's lifeless body from a West Toledo home.
Crews took Aayla Johnson, 1, her mother, and her sister from their home in the 4000 block of Fairview Drive to Mercy Health St. Vincent Medical Center on Wednesday. Investigators believe they were exposed to carbon monoxide from the family's vehicle, police said.
Aayla hung limp from the arms of those trying to save her as she was carried away, Ms. Lopez, said.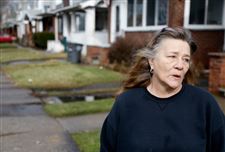 Jennifer Lopez speaks about her neighbor in a house in the 4000 block of Fairview Drive in Toledo on Thursda. Police are investigating the death of a 1-year-old baby possibly caused by carbon monoxide exposure.
THE BLADE/KURT STEISS
Enlarge | Buy This Image
"When I [saw] that, I was in shock," Ms. Lopez said. "I bawled my eyes out when I saw them carrying those babies out. It crushed me."
For Aayla, it was too late. The 1-year-old girl was pronounced dead at the hospital, police said. Investigators continue to probe the events surrounding the death.
An autopsy was conducted on the girl at the Lucas County Coroner's Office on Thursday, but a preliminary cause of death could not be determined. A spokesman at the office said a determination is pending further investigation and toxicology results, which will show what level of carbon monoxide — if any — was in the child's system.
Emergency personnel first responded to a report of unconscious people at the Fairview Drive home at approximately 4:45 p.m. Wednesday.
When police officers arrived, emergency crews were treating the mother, Somyla Madison, 32, while her two children, Jania Johnson, 8, and Aayla were being taken to Mercy Health St. Vincent Medical Center. The mother was also taken to the hospital.
Ms. Madison was treated and released from the hospital, but there was no patient recently listed by the 8-year-old's name at the hospital as of Thursday, a Mercy Health St. Vincent Medical Center spokesman said.
Investigators believe the mother and daughters may have been exposed to carbon monoxide while in a family car Wednesday. Toledo Police Department spokesman Sgt. Kevan Toney said. The car was parked in the driveway when they returned home, he said.
No one answered at the residence Thursday afternoon.
Neighbors said they saw Ms. Madison's vehicle being towed from the home late Wednesday.
While the family generally kept to themselves, Debbie Estell recalled Aayla walking down the street to pet her dog.
"She would come bouncing down the street," Mrs. Estell said with tears in her eyes. "Life's too short as it is, and for something like that to happen ..."
Contact Allison Reamer at areamer@theblade.com, 419-724-6506 or on Twitter @AllisonRBlade.
Guidelines: Please keep your comments smart and civil. Don't attack other readers personally, and keep your language decent. Comments that violate these standards, or our privacy statement or visitor's agreement, are subject to being removed and commenters are subject to being banned. To post comments, you must be a registered user on toledoblade.com. To find out more, please visit the FAQ.