A Toledo traffic stop gained a large audience online when an upset bystander streamed it Thursday on Facebook Live.
However, Toledo police said the video shows restraint by the officers.
RELATED: Toledo Police explain process of viral Detroit Avenue traffic stop
The person who took the video, which had more than 76,000 views by early Friday morning, said she was concerned as officers seemed to escalate the situation.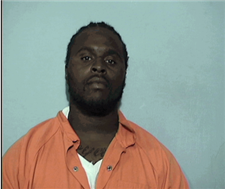 Douglas-Reed
The man stopped, Ryin Douglas-Reed, 28, was charged with improperly handling firearms in a motor vehicle, resisting arrest, obstructing official business, for not yielding the right of way at a stop sign, and for violations involving his seat belt and the display of license plates.
He was taken into custody without injury, and a firearm was located within reach of the driver's seat, police said.
"As with all incidents requiring increased action by officers to effect an arrest, this incident will be reviewed by the involved officers' command according to Toledo Police Department policy and procedure," the department's statement said. "This incident highlights the challenges officers face while putting themselves in harm's way to reduce gun violence in Toledo's neighborhoods. Toledo Police have seized over 550 firearms thus far in 2018."
No injuries in tense evening traffic stop involving a firearm. Read more at: https://t.co/8OUnj3H6RR pic.twitter.com/etsBWP3kBK

— Toledo Police (@ToledoPolice) July 13, 2018
Caprice James, 36, who took the video, said: "I'm tired of African-American men having to be scared of the police, and this just proved it. I see this on the Internet all the time, but to see it up close and personal, it gives it a different light."
WARNING: THE FOLLOWING VIDEO CONTAINS EXPLICIT LANGUAGE
Police said that about 6:20 p.m., a special operations unit focusing on an area of increased gun violence pulled over a sport-utility vehicle at North Detroit Avenue and Vance Street for a stop sign violation and the improper display of license plates.
Police, in a statement, said that "officers encountered an argumentative Mr. Douglas-Reed."
Ms. James said, "He was talking so calm. He wasn't yelling or nothing until they told him to get on the ground."
A canine unit was called, and the dog alerted for narcotics, police said. Mr. Douglas-Reed was told to get out of car, but failed to comply and resisted officers, police said.
Ms. James said she was sitting on the porch and did not see the SUV run a stop sign, nor did she hear officers tell him he went through the stop sign.
"At a simple traffic stop for a license plate, if they don't smell drugs and you don't have drugs, how did it get to the point where they were going in the car to find anything?" she said.
Police said in a statement said that as officers conducted their investigation, people began to yell and escalated the situation.
Ms. James said that neighbors quickly gathered.
"People were coming from every angle," she said. "I was the first one going live, but as people came to the scene, they were going live. They couldn't believe what they were seeing."
Guidelines: Please keep your comments smart and civil. Don't attack other readers personally, and keep your language decent. Comments that violate these standards, or our privacy statement or visitor's agreement, are subject to being removed and commenters are subject to being banned. To post comments, you must be a registered user on toledoblade.com. To find out more, please visit the FAQ.