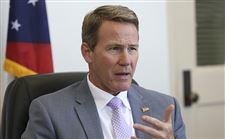 Ohio Secretary of State Jon Husted speaks during a meeting with the Blade editorial board May 15.
THE BLADE
Enlarge | Buy This Image
Ohio candidate for governor Jon Husted will hold a public "meet and greet" Monday with state Rep. Theresa Gavarone (R., Bowling Green) in Bowling Green.
Mr. Husted, in his second term as Ohio secretary of state, is one of two announced Republican candidates for the Republican nomination for governor, along with U.S. Rep. Jim Renacci of Wadsworth.
Also campaigning for the nomination but not officially declared are state Attorney General Mike DeWine and Lt. Gov. Mary Taylor.
The event is slated for 9:30 a.m. at Mr. Spots restaurant, 206 N. Main St., Bowling Green.
Guidelines: Please keep your comments smart and civil. Don't attack other readers personally, and keep your language decent. Comments that violate these standards, or our privacy statement or visitor's agreement, are subject to being removed and commenters are subject to being banned. To post comments, you must be a registered user on toledoblade.com. To find out more, please visit the FAQ.