Toledo Mayor Paula Hicks-Hudson and Lucas County Treasurer Wade Kapszukiewicz focused on their competing visions for the next four years in a forum at the Toledo Lucas County Main Library Wednesday.
About 50 people attended the two-hour forum sponsored by the Toledo chapter of the NAACP and the Art Tatum African American Resource Center Citizens' Advisory Board and held in the McMaster Center of the Toledo Lucas County Main Library.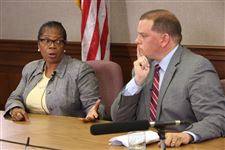 Incumbent Toledo Mayor Paula Hicks-Hudson, left, and challenger Wade Kapszukiewicz field questions from the editorial staff of The Blade Wednesday. The candidates participated in a 2-hour forum sponsored by the Toledo chapter of the NAACP Wednesday evening.
The Blade/Katie Rausch
Enlarge | Buy This Image
All 12 candidates for six at-large seats on Toledo City Council attended and followed the mayoral candidates in making statements and answering questions.
The election for city offices are on the Nov. 7 ballot.
RELATED CONTENT: Candidates accuse each other of undermining public trust ■ First day early vote outpaces 2013 and 2017 primary ■ Mayoral candidate takes in-kind office space from Land Bank recipient
Ms. Hicks-Hudson, who is an endorsed Democrat, highlighted the achievements of her two and a half years in office, contrary to what she said was an unduly negative portrayal by her opponent.
"This city is on the move and the statistics being touted don't really reflect the energy, the drive that's happening in our community," Ms. Hicks-Hudson said.
She cited new business investment and the elimination of most of the $14.5 million structural deficit the she inherited in 2015.
"I walked into an office not ready to do it but I learned on the job," she said.
Ms. Hicks-Hudson became mayor in February, 2015 automatically because she was city council president when Mayor D. Michael Collins died. She was elected in a seven-way special election in November, 2015.
Mr. Kapzukiewicz told the group that he's running with ideas in mind, including to advocate for universal pre-kindergarten school for 3-year-olds and 4-year-olds, which he hopes will be funded from the private sector.
"People are leaving Toledo. A report last week said Toledo is one of most distressed cities in the country — and this is during what we are told are the good times," Mr. Kapszukiewicz said. He said Toledo unemployment grew faster in two of the last three months than any other city's unemployment rate in Ohio.
"Some say everything's fine, don't change horses in mid-stream. I know we can do better," he said. "I'm running for mayor not because I want to be something. I'm running for mayor because I want to do something."
Ms. Hicks-Hudson called her administration the most diverse of any other administration, and touted the emphasis she said she has placed on "reinvigorating" the Youth Commission.
Mr. Kapszukiewicz said that in his public life he has always put a priority on making sure his staff reflects the diversity of the community.
They were asked how they would respond to racial incidents.
"We call it out. We don't just allow things to stay in the dark," the mayor said.
Mr. Kapszukiewicz blamed the current President for allowing a "segment of our society to come out of the shadows.
"But happily we have seen a pushback also," Mr. Kapszukiewicz said.
He added Americans need to listen to each other more.
Contact Tom Troy at tomtroy@theblade.com, 419-724-6058, or on Twitter @TomFTroy.
Guidelines: Please keep your comments smart and civil. Don't attack other readers personally, and keep your language decent. Comments that violate these standards, or our privacy statement or visitor's agreement, are subject to being removed and commenters are subject to being banned. To post comments, you must be a registered user on toledoblade.com. To find out more, please visit the FAQ.