Saying Maumee Municipal Court has been "mismanaged" for years, Maumee lawyer and City Council member Daniel Hazard is challenging longtime Judge Gary Byers for his job on election day.
OBJECTMr. Hazard, who has been on council for six years and chairs its finance and municipal court committees, contends the court needs a new judge and administrator after 24 years under Judge Byers.
"The struggles that we've had with the court have just grown to the point where the level of spending is unsustainable," Mr. Hazard said.
The friction between Judge Byers and City Council is no secret.
In 2015, Judge Byers and then-Clerk of Courts Sharon Thomasson sued the city for refusing to fund the court's entire budget. Council had withheld more than $53,000 needed to pay the clerks who work during the nights and on weekends, saying the 24/7 service was unnecessary.
Ohio's 6th District Court of Appeals sided with the judge and the clerk, saying Ohio law required the city to fund the court's "reasonable and necessary" requests and that the city had not shown the after-hours clerk services were unreasonable or unnecessary.
"This is not rocket science," Judge Byers said. "Under state law, cities are required to pay for courts."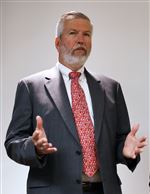 Judge Gary Byers of Maumee Municipal Court.
The Blade/Dave Zapotosky
Enlarge | Buy This Image
Maumee Municipal Court generated slightly less than $1.5 million in fines and costs last year, he said, but the state requires nearly half of those funds be distributed to various agencies and programs, such as the state public defender's office. The court's host community then picks up the balance of the court's expenses.
"I believe we need to find a new way to fund courts," Judge Byers, 61, said. "And the way you do that is not to blame the judge but to go to the state legislature because they're the ones who set up the system, not the courts."
He is seeking a fifth term, he said, because he still enjoys going to work and believes he's making an impact on the community. In addition to Maumee, the court serves Waterville and Whitehouse, Providence and Waterville townships, and the parts of Swanton, Monclova, and Springfield townships located south of the Ohio Turnpike.
Mr. Hazard, 44, a Republican who specializes in commercial litigation, said that if elected judge, he has a plan to fix the court's overspending, beginning with a performance audit that would examine court procedures, staffing, and ways the court could run more efficiently. The city underwent such an audit several years ago that resulted in hundreds of thousands of dollars in savings, he said.
"There's always been a small contribution [to the court's budget] from the city, but the fact is, it's gone from $200,000 a year to $900,000 a year, and for a small community like us, it's crippling," Mr. Hazard said.
He maintains there are multiple ways the court could tighten its belt and reduce staff — from implementing more technology to eliminating the around-the-clock clerk services, which no other municipal courts in the area have.
Judge Byers, a Democrat, said the after-hour clerks contact him when a police officer needs to get a warrant in cases such as domestic violence or drunk driving, and he can consider and sign the warrant electronically. When those same clerks are not processing warrants, he said, they are performing the same work they would do during the day.
The judge said he has instituted cost-savings measures over his four terms in office, including implementing video arraignments to save transportation costs from the county jail and using part-time retired police officers for security.
"I don't think the purpose of the court is to raise independent funds for the city," Judge Byers said, adding that the city spends more than $6 million a year for the police department. "What good is funding a great police department if you don't have a court to adjudicate it in?"
Municipal court judges are elected in non-partisan races to six-year terms and currently are paid $125,850 a year.
The general election is Nov. 7.
Contact Jennifer Feehan at: jfeehan@theblade.com or 419-213-2134.
Guidelines: Please keep your comments smart and civil. Don't attack other readers personally, and keep your language decent. Comments that violate these standards, or our privacy statement or visitor's agreement, are subject to being removed and commenters are subject to being banned. To post comments, you must be a registered user on toledoblade.com. To find out more, please visit the FAQ.