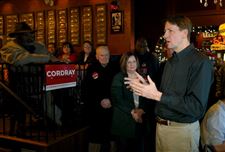 Democratic Ohio governor candidate Richard Cordray announces his bid for running during a campaign stop at Tony Packo's in Toledo.
The Blade/Lori King
Enlarge | Buy This Image
A day after launching his bid to become the next Ohio governor, Democratic hopeful Richard Cordray took his kitchen table tour Wednesday to famed East Toledo eatery Tony Packo's Cafe.
Speaking to a friendly crowd of party supporters, Mr. Cordray talked about the need for working with communities to solve problems such as harmful algal blooms in Lake Erie and the growing opiate crisis across the state.
"That to me is the way we do things in Ohio. I call it the Ohio way. It's our way. It is not what we have seen in the last few years, which is the state legislature waging war on local governments and stripping money from our local governments that deal with these problems face-to-face with people and making a difference in our communities," he said.
The campaign appearance was the last of three stops the former consumer watchdog made Wednesday along the I-75 corridor for his statewide tour of Ohio cities. He also spoke in Cincinnati and Dayton.
VIDEO: Richard Cordray at Tony Packo's
In Toledo, he was introduced by Toledo Mayor Paula Hicks-Hudson and former Mayor Carty Finkbeiner, who reminded supporters that during his administration Mr. Cordray, as state attorney general, provided grant funds to allow the city to rehire police officers after there were layoffs because of financial problems.
Mr. Cordray, 58, resigned last month as director of the Consumer Financial Protection Bureau, one of the last major Obama-era holdouts in the Trump administration. He is also a former Ohio attorney general, state treasurer, and state representative.
Massachusetts Sen. Elizabeth Warren, the architect behind the CFPB, released a statement Wednesday in support of Mr. Cordray, who led the agency for six years.
He pledged to the nearly 50 people gathered in Packos that he would restore power to local governments that have been hit with funding cuts from the Republican-led Legislature.
"My job will be to stop the war on local governments and I will," he said. "The state legislature in this state warring on local government is the wrong approach. They have taken your money and they bragged about giving it back to taxpayers and they are the taxpayers that need it the least. That is not the direction we need in the state."
He said he would partner with local officials to focus on issues important to Ohio residents, including paying for health care and college, finding a better job, and saving for retirement.
Mr. Cordray, of Grove City, faces challenges from within his own party from state Sen. Joe Schiavoni, Dayton Mayor Nan Whaley, former U.S. Rep. Betty Sutton, former state Rep. Connie Pillich, and Ohio Supreme Court Justice Bill O'Neill in the May primary.
The Republicans are countering with their own slate of candidates for the primary. Attorney General Mike DeWine, who recently signed on Secretary of State Jon Husted as his running mate, Lt. Gov. Mary Taylor and U.S. Rep. Jim Renacci.
Contact Mark Reiter at: markreiter@theblade.com or 419-724-6199.
Guidelines: Please keep your comments smart and civil. Don't attack other readers personally, and keep your language decent. Comments that violate these standards, or our privacy statement or visitor's agreement, are subject to being removed and commenters are subject to being banned. To post comments, you must be a registered user on toledoblade.com. To find out more, please visit the FAQ.