Whaley: Cordray "will lead us to victory"
1/12/2018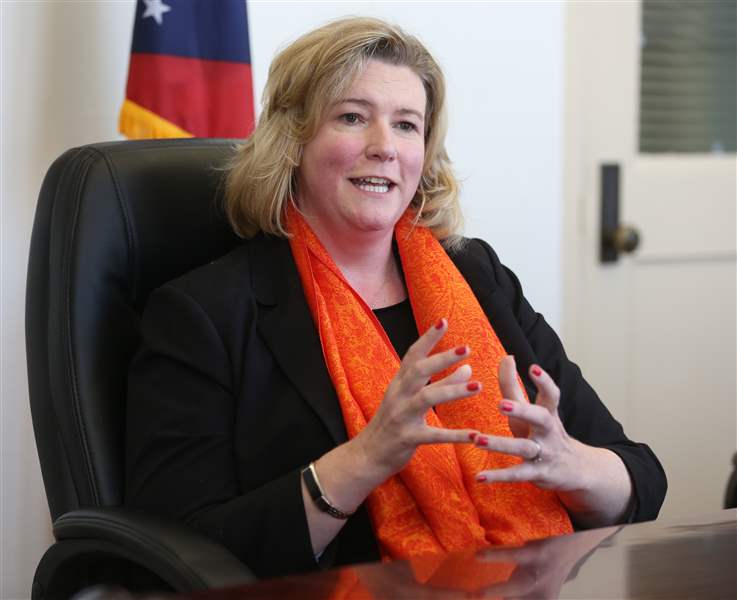 Dayton Mayor Nan Whaley
The Blade/Dave Zapotosky
Buy This Image
COLUMBUS — Nan Whaley on Friday presided over what could be seen as the beginning of the Democratic coronation of Richard Cordray as the party's choice for governor.
The Dayton mayor, as expected, formally dropped out of the race and endorsed the former federal consumer watchdog, Ohio attorney general, treasurer, and state representative in what remains a crowded field of candidates.
"Now is the time to bring our party together," she said during a hometown news conference. "Now is the time for unity. Now is the time for Democrats to join forces behind a candidate who will lead us to victory in November. I believe that candidate is Richard Cordray."
Republicans on the national stage have been acting for months like Mr. Cordray would be the opposing candidate, long before he stepped down last fall as director of the federal Consumer Financial Protection Bureau.
"What [Ms. Whaley] has said to me is we simply have to win this year," Mr. Cordray said. "No pressure there."
He credited her with elevating the campaign's discussions on the opioid addiction crisis, the burdens of local governments, and the need for stronger investment in preschool, higher education, and job training.
"On all of these issues, she has been right, and she has envisioned a practical yet beneficial direction for our future," Mr. Cordray said. "Betty Sutton and I will fight for the same things Nan is fighting for, and I know she will be right alongside us."
Although it remains a crowded field, it appears that the party is coalescing behind him.
"The minute he announced, it was almost as if folks, including the party, had just anointed him as the front-runner," said Melissa Miller, associate professor of political science at Bowling Green State University. "He has a strong resume. There's irony because Nan Whaley was a real contender. Everything changed when Cordray entered the race. When he announced he picked Betty Sutton to move from gubernatorial candidate to lieutenant governor, that added real ticket strength."
But she stressed there's been no real polling in the race to indicate what Ohio Democratic voters are thinking.
"We've seen the Republican Party coalesce as well, so there may be pressure for Democrats to sort through this stuff," said Mark Caleb Smith, director of the Center for Political Studies at Cedarville University.
He agreed with Ms. Miller that the late entry of former congressman and presidential candidate Dennis Kucinich has thrown a wild card in the race.
"The most recent presidential election shows that just because the party wants something doesn't mean that's what the party gets," he said. "Kucinich throws an interesting wrinkle into things. He has high name recognition and is an interesting politician. If he can stay disciplined, it may be less about what the Democratic Party wants, and it doesn't mean the race is over."
Mr. Kucinich will formally announce his candidacy Wednesday. He will join Mr. Cordray, former Cincinnati state Rep. Connie Pillich, state Sen. Joe Schiavoni (D., Boardman), and Ohio Supreme Court Justice William O'Neill in the hunt for the party's nomination in the May 8 primary election.
Right now it's a two-person race for the Republican nomination between Attorney General Mike DeWine and Lt. Gov. Mary Taylor.
Contact Jim Provance at: jprovance@theblade.com or 614-221-0496.