COLUMBUS — Another Democratic candidate for governor will drop out of the race Wednesday and throw her support to Richard Cordray for the party's nomination.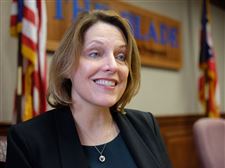 Connie Pillich will reportedly drop out of the Ohio Governor's race on Wednesday.
The Blade/Dave Zapotosky
Enlarge | Buy This Image
Former Cincinnati state Rep. Connie Pillich and the man she selected as her would-be lieutenant governor, Marion Mayor Scott Schertzer, will hold a news conference with Mr. Cordray to make the announcement, a source close to the campaign confirmed.
It comes just days after Ms. Pillich formally filed paperwork to become a candidate.
That leaves six other candidates — none of them women — in the race in addition to Mr. Cordray, former director of the federal Consumer Financial Protection Bureau, Ohio attorney general, treasurer, and state representative.
Counting Mr. Cordray's running mate, former Akron area congressman Betty Sutton, Ms. Pillich marks the third candidate — all women — to drop out of the race and throw her support to Mr. Cordray. Dayton Mayor Nan Whaley did so a month earlier.
That leaves former Cleveland congressman Dennis Kucinich, former state Supreme Court Justice William O'Neill, frequent Dayton candidate Larry Ealy, Cleveland physician Jon Heavey, political newcomer Paul E. Ray of Alliance, and state Sen. Joe Schiavoni (D., Boardman).
The winner of the nomination would square off against the winner of the Republican nomination, Attorney General Mike DeWine or Lt. Gov. Mary Taylor, to succeed Republican Gov. John Kasich.
Mr. DeWine won the Ohio Republican Party's State Central Committee endorsement Friday. The Ohio Democratic Party has offered no endorsements to date.
Ms. Pillich is ending her race after participating in three sanctioned Democratic debates. Mr. Cordray, who entered the race in December, has yet to participate in one.
Despite his late entry into the race, Mr. Cordray reported raising just under $2 million in the annual report filed at the end of January. By comparison, Ms. Pillich reported raising $482,856 during the prior six months and had $911,655 in cash on hand.
Mr. Schiavoni noted that all other original candidates who appeared with him on stage during the three Democratic debates are gone.
"Sadly, this is the next step in the political playbook," Mr. Schiavoni said. "Another qualified candidate drops out because insiders say there's only one choice. But we all know Democrats lose when we follow the political playbook. This year, I'm going to provide another option."
Contact Jim Provance at jprovance@theblade.com or 614-221-0496.
Guidelines: Please keep your comments smart and civil. Don't attack other readers personally, and keep your language decent. Comments that violate these standards, or our privacy statement or visitor's agreement, are subject to being removed and commenters are subject to being banned. To post comments, you must be a registered user on toledoblade.com. To find out more, please visit the FAQ.