Second in a series
COLUMBUS — Donald Trump won Ohio by appealing to working-class voters, and Dennis Kucinich argues he is the only Democrat running for governor this year who can bring them back into the fold.
"If anything, the election of Donald Trump was a wake-up call," the former Cleveland mayor, congressman, and presidential candidate said. "The big mistake that Democrats have made? By making everything about Donald Trump, they ignore the reasons why people voted for Donald Trump, which was a feeling of abandonment by the party."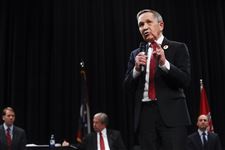 Former U.S. Rep. Dennis Kucinich of Ohio speaks during the Ohio Democratic Party's fifth debate in the primary race for governor, Tuesday, April 10, 2018 in Middletown.
ASSOCIATED PRESS Enlarge
Mr. Kucinich, 71, argues he is the Democrat in the May 8 primary election who stands the best chance of beating the Republican nominee in the fall.
"While my politics are identified as being left of center, I'm very pragmatic and practical," he said. "My politics in the general election would be seen as more mainstream. ... You cannot get independent-leaning Republicans to vote by attacking Republicans."
Mr. Kucinich seeks a return to Ohio politics after an absence of nearly six years. He served as Ohio's biggest city's young, controversial mayor from 1977 to 1979 — surviving a recall election, blocking the sale of Cleveland's municipal power company, presiding as the city defaulted on its debt, and persuading voters to approve an income tax hike.
He lost his re-election bid to Republican George Voinovich. Mr. Kucinich returned to elected office more than a decade later with the win of an Ohio Senate seat. He left in 1997 for a congressional seat he held for the next 16 years.
During his congressional tenure, the liberal Democrat twice sought his party's presidential nomination. He challenged the country's entry into war in Iraq and unsuccessfully championed the impeachment of then President George W. Bush.
He was targeted by Ohio Republicans and Democrats alike in 2012 as they enacted a new congressional map. They put him in the same Lake Erie-hugging district as fellow veteran Democratic U.S. Rep. Marcy Kaptur of Toledo. Miss Kaptur won the primary fight.
"My guess is it was a measure of how thoroughly engaged with the interest groups that the Democrats in Columbus had been," Mr. Kucinich said.
"I've been known as the one person who will take on banks, utilities, real estate, and insurance interests. I'm not a guy who takes direction [from] party bosses," he added.
He became a regular contributor to Fox News, a position he stepped down from when he entered the race for governor.
As a candidate, he has aggressively gone after primary opponent Richard Cordray, former director of the U.S. Consumer Financial Protection Bureau, state attorney general, and state treasurer. Although not endorsed by the party apparatus, Mr. Cordray won the key backing of the AFL-CIO, and of every other Democratic candidate who has dropped out of the race.
"He deserted his post at the Consumer Financial Protection board," Mr. Kucinich said. "He did it to run for governor. ... In some ways you could argue that that consumer post was more important than being governor of a state. ... He put the keys to the Consumer Finance Protection board into the hands of the Trump administration."
After the Parkland, Fla., school shooting, Mr. Kucinich called for a ban in Ohio on assault-style weapons, and he criticized Mr. Cordray for, as attorney general, successfully defending a state law that overrode tougher city gun laws.
Mr. Kucinich proudly wears a lapel pin proclaiming his "F" rating from the National Rifle Association as he points to the NRA's past support of Mr. Cordray.
"What's wrong with him?" he asked. "Does he not understand that people are worried about their kids at school, about the safety in public spaces? There's a flaw here in his thinking. It goes way beyond politics. ... And he's a Democrat. He's running in the wrong primary as far as I'm concerned."
Mr. Cordray has said defending Ohio's law was his job as attorney general. His office also intervened in a federal case against Chicago that undermined the power of cities to regulate guns.
If elected, Mr. Kucinich said he would halt new permits for hydraulic fracturing, or "fracking," of oil and natural gas, and he would block the state from accepting waste from fracking operations in other states for disposal here.
Although originally opposed to creation of Ohio's two lakefront nuclear power plants, he now wants to reregulate electricity generation in the state, blaming it for the anticipated closing of those plants. He said out-of-state fracking interests have undercut the competitiveness of utilities like FirstEnergy Corp.
"There's thousands of jobs at risk here at the nuclear power plant," he said. "I want Ohio to incentivize sustainable green energy ... but I'm not going to let out-of-state interests try to crush Ohio utilities who are grappling with financial problems affecting thousands of jobs. ... There has to be what I call soft landing for these utilities."
He wants to legalize recreational marijuana and industrial hemp and fix what he sees as problems in Ohio's still pending medical marijuana program.
He also wants to put a proposed constitutional amendment before voters seeking approval of a major borrowing package to fund a modern "New Deal" to rebuild roads, bridges, water and sewer, and other Ohio infrastructure. He sees it as a major investment in job creation.
Mr. Kucinich picked Akron City Counclman Tara Samples as his would-be lieutenant governor. The campaign drew unwanted headlines recently when Ms. Samples' 24-year-old son was taken into protective custody after a post on his Facebook page appeared to threaten police. The campaign said he has a history of mental illness.
Two other Democrats have participated in party-sanctioned debates — former Ohio Supreme Court Justice William O'Neill and state Sen. Joe Schiavoni (D., Boardman). Also on the primary ballot are Alliance political newcomer Paul E. Ray and perennial Dayton candidate Larry E. Ealy.
Contact Jim Provance at: jprovance@theblade.com or 614-221-0496.
Guidelines: Please keep your comments smart and civil. Don't attack other readers personally, and keep your language decent. Comments that violate these standards, or our privacy statement or visitor's agreement, are subject to being removed and commenters are subject to being banned. To post comments, you must be a registered user on toledoblade.com. To find out more, please visit the FAQ.