The four judges vying for two Ohio Supreme Court seats have signed the state bar association's "clean campaign" pledge, vowing not to engage in campaign activity that goes against the court's political impartiality.
Judicial offices differ from legislative and executive positions in that judges don't represent constituents and take an oath to administer justice in a non-partisan way.
While judges run on the slate of their political parties, their affiliations won't appear on the November ballot.
As part of the clean campaign agreement, the Ohio State Bar Association's Judicial Election Campaign Advertising Monitoring Committee has asked each candidate to take personal responsibility for their advertisements and statements they and their authorized committees issues, and to publicly disavow ads from other sources that violate the pledge.
"We believe the public and our judicial system at large are best served when judicial campaigns focus on candidates' credentials, experience, and temperament. This allows Ohio voters to make better informed decisions at the ballot box and ultimately, to send fair and impartial jurists to the bench," said Maxine Thomas, chairman of the bar association's Judicial Election Campaign Advertising Monitoring Committee.
Republicans currently control all seven seats on the state's high court.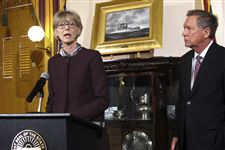 Judge Mary DeGenaro accepts her appointment as a new Ohio Supreme Court justice accompanied by Gov. John Kasich, who announced the selection, on Jan. 25.
ASSOCIATED PRESS Enlarge
The two open races each have a Republican and Democrat vying for seats held by Justices Terrence O'Donnell and Mary DeGenaro.
In one race Ms. DeGenaro, a Republican appointed in January to replace William O'Neill, who resigned to run for governor, is competing against Democrat Melody Stewart, who sits on the Eighth District Court of Appeals in Cleveland. Neither Mr. O'Neill not Mr. O'Donnell could run again because they turned 70 in their current six-year terms.
The other race pits Republican Craig Baldwin, a judge on the Fifth District Court of Appeals in Canton, against Democrat Michael P. Donnelly, a Cuyahoga County Common Pleas Court judge.
The Ohio State Bar Association's Judicial Election Advertising Monitoring Committee was founded in 2002 after Ohio had become known for the partisan nature of its Supreme Court elections and special interest seeking to influence the bench, Ohio State Bar Association President Robin Weaver said.
"The OSBA felt a responsibility then, just as it does today, to step up and do our part to promote and uphold public trust and confidence in the independence and impartiality of the judiciary. This is a role we take very seriously," Mr. Weaver said.
The bar association's bipartisan Commission on Judicial Candidates will issue rating of the Supreme Court candidates in the coming weeks.
Guidelines: Please keep your comments smart and civil. Don't attack other readers personally, and keep your language decent. Comments that violate these standards, or our privacy statement or visitor's agreement, are subject to being removed and commenters are subject to being banned. To post comments, you must be a registered user on toledoblade.com. To find out more, please visit the FAQ.