Two of the top goaltenders in the ECHL took center stage Friday in a showdown between rivals Fort Wayne and host Toledo at the Huntington Center.
Fort Wayne goalie Michael Houser did all he could to keep the Komets in the Central Division tilt, but Walleye goaltender Pat Nagle led his team to a 3-1 victory with 24 saves.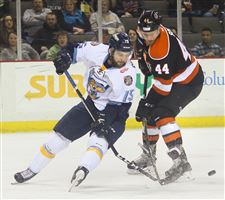 Toledo Walleye forward Dylan Sadowy (15) breaks his stick against Fort Wayne Komets defender Cody Sol (44).
BLADE/JEREMY WADSWORTH Enlarge
Forwards Connor Crisp, Shane Berschbach, and Luke Esposito scored for Toledo (22-10-3), which increased its lead to three points over Fort Wayne (21-12-2) in the division.
PHOTO GALLERY: Walleye-Komets
Nagle, who will represent Toledo in the ECHL all-star game next week, was solid in his 23rd start of the season. Nagle increased his lead in the ECHL in wins with his 17th of the season. Houser entered the game tied for second with 15 wins.
Nagle, who played the past three seasons in Fort Wayne, now is 2-1-0 against his former team. Toledo is 2-4-1 against the Komets this season.
"This is huge," Nagle said. "We had struggled against them and it was time to man up and play a complete, tough game against them. It's a big rivalry year in and year out. It was good hockey."
VIDEO: Toledo-Fort Wayne
The Walleye struck first with 3 minutes, 14 seconds left in the first period. Crisp took advantage of a rare misplay by Houser, who got out of position as he anticipated a pass to Tyler Barnes. Crisp deposited the puck into the empty net for a 1-0 lead.
Berschbach, who suffered a chipped tooth because of a high stick early in the game, then scored a power-play goal near the midpoint of the third.
"It's a pretty good chip," Berschbach said of his damaged front tooth. "I'll take [the goal]. I got a couple of 'hockey gods' comments from the boys."
Defenseman Simon Denis had an initial shot from the point. Mike Borkowski then got the loose puck and sent it over to Berschbach, who tallied his 21st point of the season. The pivotal goal came just nine seconds into the power play.
"We got up for this one and we wanted to hammer them down and we did," Berschbach said.
Fort Wayne coach Gary Graham called a timeout with 4:06 left with his team down two, pulling Houser for the extra attacker. Esposito made him pay with an empty-net goal on a long shot from his own end with 3:35 remaining in regulation.
But the Komets ruined Nagle's shutout bid with 1:14 to go, when Shawn Szydlowski's shot deflected off a Walleye defenseman.
"That's hockey," Nagle said. "It's tough bounces. It was going wide but went in. But we'll take the win."
Houser finished with 33 saves, including 21 in the first. Toledo outshot Fort Wayne 36-25.
Walleye coach Dan Watson said Houser has been a thorn in his team's side.
"I would have liked to have seen the score if Houser didn't stop a couple of those in the first period," Watson said. "We were all over them. He stood tall for them again. But Pat Nagle countered that with some big stops. His [puck] control was excellent."
Nagle said he wanted to deliver for his team just as Houser was for his.
"He had a great game and had big saves to keep them in it," Nagle said. "My D did a great job in front of me."
Toledo had three golden chances to take a two-goal lead much earlier, but Houser came up with back-to-back terrific stops on point-blank shots from Dylan Sadowy and Christian Hilbrich.
Houser was the difference in the first. The Walleye tied a season high for shots on goal in a period, matching the total they had Dec. 27 against Indy.
Houser (15-8-2) made a great snap glove save on Kevin Gibson early.
Toledo went 0-for-3 on the power play in the opening period with five shots, including a four-minute span with the man advantage when Fort Wayne's Mason Baptista was issued a double minor for high sticking that drew blood on Berschbach.
Hilbrich also was robbed by Fort Wayne defenseman Curtis Leonard, who covered up an open net to stop the shot.
The Walleye then matched their season low for shots a period in the second with just three.
Toledo's Kyle Bonis had a solo breakaway with 8:15 left, but Houser made the save. Five minutes into the third, Houser made another fine stop on Tyler Barnes off a pass from Erik Bradford. Houser robbed Bonis again in the late stages.
There was some speculation the game would be canceled because of inclement weather, but Fort Wayne arrived before the bad weather arrived and the game started on time.
Only two games in the Walleye's nine-year history have been canceled. In January, 2015, a multiple-car pileup on I-94 made it impossible for Kalamazoo to get to Toledo and the game was postponed to a later date. An outdoor game against the Komets as part of the team's Winterfest at Fifth Third Field also was canceled that same month.
The paid attendance was 6,679 but because of the weather, not quite that many made it.
Toledo continues a key weekend homestand with two more games against Central Division foes. They host Kansas City on Saturday and Cincinnati on Sunday. Toledo, Fort Wayne, Cincinnati, and Kansas City occupied the top four spots in the division, respectively, entering Friday's play.
"It's an important weekend," Watson said. "We wanted to get off on the right track here. It's one you circle on the calendar. It's a chance to make headway in the division."
FISH TALES: The Hanson Brothers, who gained fame in the 1970s classic movie Slap Shot, dropped the ceremonial first puck and signed autographs at the game.
* Esposito and forward Zach Nastasiuk were re-assigned from Grand Rapids of the American Hockey League before the game.
* The National Anthem performer was one of the youngest this season and one of the best. Abby Karakas, 9, of Sylvania received a big round of applause after her singing.
* Former longtime Perrysburg boys soccer coach Mike Timbrook was recognized as the Hometown Hero in the second period. Timbrook is a jet pilot in the Ohio National Guard.
Contact Mark Monroe at: mmonroe@theblade.com, 419-724-6354, or on Twitter @MonroeBlade.
Guidelines: Please keep your comments smart and civil. Don't attack other readers personally, and keep your language decent. Comments that violate these standards, or our privacy statement or visitor's agreement, are subject to being removed and commenters are subject to being banned. To post comments, you must be a registered user on toledoblade.com. To find out more, please visit the FAQ.