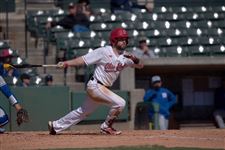 Troy Montgomery attended Ohio State before embarking on a pro career that could bring him to Toledo this season.
OHIO STATE ATHLETICS/VERN VERNA Enlarge
The Tigers will open spring training Feb. 13, which means baseball season is coming. Here is a daily look at players with possible ties to the 2018 Mud Hens, whose home opener is set for April 12 vs. Pawtucket.
OF Troy Montgomery
History: The Tigers received Montgomery from the Angels as part of the return in the Ian Kinsler trade. He was an eighth-round pick by the Angels in 2016 out of Ohio State, and the 23-year-old climbed to Double-A in his first full pro season. Montgomery had a .348 on-base percentage with nine steals in 65 games at High Single-A Inland Empire in the California League; while he batted just .235 in 20 games at Double-A Mobile, he had a .350 on-base percentage and four more steals.
Future: Montgomery is ranked as the Tigers' 26th-best prospect by MiLB.com entering the season. Montgomery's limited time in Double-A points to him starting in Erie; if he shows improvement there, it's not out of the question to see him in Toledo this season.
Click here for a full list of Mud Hens spring training bios.
Contact John Wagner at jwagner@theblade.com, 419-724-6481, or on Twitter @jwagnerblade.
Guidelines: Please keep your comments smart and civil. Don't attack other readers personally, and keep your language decent. Comments that violate these standards, or our privacy statement or visitor's agreement, are subject to being removed and commenters are subject to being banned. To post comments, you must be a registered user on toledoblade.com. To find out more, please visit the FAQ.