In recent seasons, the Detroit Tigers have entered spring training with rosters that are generally well-defined. Barring injuries or the unexpected, the team had its lineup and pitching staff mostly determined even before the first spring pitch was thrown.
That certainly is not the case this season, as the Tigers open spring training — pitchers and catchers report Tuesday — with openings all around the diamond.
"There are still some veterans who have earned their opportunities and established their spots," said Dave Littlefield, Detroit's vice president of player development. "But this year there are some opportunities in the outfield, there are questions in the bullpen. This year things are a little more tentative."
That makes determining the roster of the Tigers' Triple-A club in Toledo much more speculative as well. In short, players who enter the spring penciled into spots on the Mud Hens roster may play themselves into a role at the big-league level instead.
And that's just fine with Littlefield.
"You root for guys to take advantage of opportunities because it's a win-win for both the player and the team," he said.
RELATED: Click here to read about all of the potential Mud Hens for 2018.
Unlike last season, when the Tigers brought in a number of six-year free agents to stock the Hens roster, this year's Toledo team is expected to be more of a blend of veterans and prospects.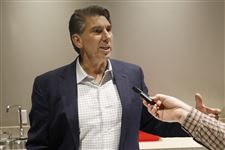 Detroit Tigers vice president of player development Dave Littlefield says more spots are open on the major league roster heading into 2018 than in years past.
Blade Enlarge
"There is an opportunity for six-year free agents — but for less than we've had since I've been here," Littlefield said. "On the positive side, we've made quite a few trades and gotten a lot of prospects in return.
"In the long term, we're looking to use some of those prospects. We're anxious to see them moving forward — and they're getting closer."
In the field, the most notable prospects expected to begin the season with the Mud Hens are outfielders Christin Stewart and Michael Gerber along with second baseman Dawel Lugo and catcher Grayson Greiner. Stewart is a power-hitting outfielder who last year led the Eastern League with 28 home runs for Double-A Erie, while Gerber finished 10th in the EL batting race with a .291 average.
Lugo, one of the players the Tigers received from Arizona in the J.D. Martinez trade, batted .269 in 43 games with the SeaWolves while making the switch from third base to second. Greiner caught 37 percent of would-be base-stealers in 93 games behind the plate in Erie.
Among the six-year free agents expected to spend time in Toledo are first baseman Edwin Espinal, who joined Stewart on the Eastern League post-season all-star team after hitting 15 homers and driving in 72 runs for Altoona; outfielders Jim Adduci and Jason Krizan, both of whom spent time with the Mud Hens last season; and utility players such as Ronny Rodriguez, Alexi Amarista, Nico Goodrum, or Pete Kozma — all of whom are candidates for a role on the Tigers bench.
The Mud Hens pitching staff also will be affected by Tigers' decisions this spring; for example, Detroit has at least eight pitchers fighting for five spots in its rotation.
"There also are opportunities in the bullpen," Littlefield explained. "Whether it's six-year free agents who saw opportunities, or young guys like Zac Reininger and Joe Jimenez, there will be opportunities.
"But some people who may be a guy who would be in the rotation in Toledo instead could earn a job in the bullpen in Detroit. We've seen that in recent seasons with Buck Farmer, Drew VerHagen, and Warwick Saupold.
"You have to have as many starting options as you can because they are so hard to find."
Detroit's rotation is expected to include right-handers Michael Fulmer, Jordan Zimmerman, and Mike Fiers. The battle for the other spots will include lefties Matt Boyd, Daniel Norris, and free-agent signee Ryan Carpenter as well as Farmer and Alex Wilson, who has spent recent seasons in the Tigers' bullpen.
Boyd, Norris, and Carpenter all could be leaders of the Hens' rotation, which also might include such veterans as southpaws Chad Bell and Travis Wood, as welll as right-handers Artie Lewicki, Farmer, and Saupold.
Bell, Saupold, and VerHagen all spent time in Detroit's bullpen in 2017, and many of these potential starters may follow suit. So could such prospects as Reininger, Jimenez, and Jairo Labourt, who also will battle minor-league six-year free agents such as Enrique Burgos, Kevin Comer, and Mark Montgomery, among others.
Mud Hens fans also should keep an eye on the Tigers' Double-A team in Erie because its roster is expected to have a number of highly regarded prospects as well.
For example, the SeaWolves rotation could include right-handers Franklin Perez, Beau Burrows, Grayson Long, and Sandy Baez as well as lefty Tyler Alexander. According to MiLB.com, all five pitchers rank among the Tigers' top 17 prospects, with Perez leading that list and Burrows ranked No. 4.
"I think they will be [in Toledo soon]," Littlefield said. "But the players will show you where they will be."
While Littlefield said he was happy recent trades and high drafts have helped restock the organization, he was quick to add that Detroit's rebuild is far from over.
"In the past couple of years we've had higher draft picks and we've traded for more good prospects," he said. "But getting to a level is one thing; performing at a higher level is another."
Contact John Wagner at jwagner@theblade.com, 419-724-6481, or on Twitter @jwagnerblade.
Guidelines: Please keep your comments smart and civil. Don't attack other readers personally, and keep your language decent. Comments that violate these standards, or our privacy statement or visitor's agreement, are subject to being removed and commenters are subject to being banned. To post comments, you must be a registered user on toledoblade.com. To find out more, please visit the FAQ.