Facing a desperate division foe, the Toledo Walleye surrendered a season-high seven goals yet somehow still took the Indy Fuel to the wire.
But in the Walleye suffered a rare home loss, 7-4 on Sunday to the Fuel.
Indy (30-28-3) entered the games three points out of the fourth and final playoff spot in the Central Division. Toledo (42-15-5) had clinched a spot in the ECHL postseason Friday.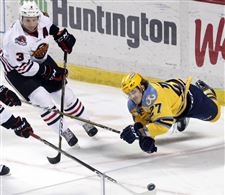 A.J. Jenks of the Toledo Walleye reaches for the puck Zach Miskovic of the Indy Fuel during an ECHL game at the Huntington Center in Toledo Sunday, March 11, 2018.
Blade/Amy E. Voigt Enlarge
Indy led 2-0 after one period, then scored on back-to-back shots just 30 seconds apart to start the second to seize a 4-0 lead.
Walleye rookie goaltender Angus Redmond struggled in his home debut, allowing five goals on 19 shots. Redmond was replaced by veteran Pat Nagle in the second.
PHOTO GALLERY: Fuel 7, Walleye 4
The teams combined for seven goals in the second, as Indy tallied four and Toledo three as the Fuel grabbed a 6-3 lead heading into the third.
Both teams were facing the tough grind of a third game in three days. Still, Toledo had a season-high 46 shots on goal.
"You can't get down 4-0 and always expect to come back," Walleye coach Dan Watson said. "But I liked the fight our guys had. There was no quit. We felt we were in the game. We still created chances. We were in the offensive zone a lot. Our guys were going."
VIDEO: Indy 7, Toledo 4
Forward Tyler Barnes scored two goals for the Walleye, who lost for just the sixth time this season at the Huntington Center. Toledo had not lost in regulation at home since Jan. 5, a string of 16 consecutive games (15-0-1) — the longest streak in franchise history. Zach Nastasiuk scored a power-play goal and Christian Hilbrich posted his 20th goal.
The seven goals against was Toledo's season high.
Forward Jaynen Rissling scored two goals, while former Walleye Darian Dziurzynski had a goal and two assists for the Fuel. Michael Neal had a goal and three assists. Reed Seckel, another former Toledo forward, had three assists.
Indy coach Bernie John said the Walleye are "too good of a team" not to make a furious push back.
"That's a heck of a hockey team," John said. "They came at us pretty hard. We were fortunate to get a couple of bounces there in the first. In the second, we made a push. They made it tough on us. Our goalie played well."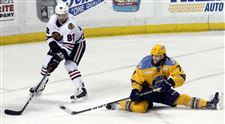 Toledo's Tyler Barnes controls the puck while Indy's Garrett Clarke defends.
Blade/Amy E. Voigt Enlarge
Redmond had been stellar in his Toledo debut in a 2-1 win March 4 at Brampton, stopping 38 of the 39 shots he faced. But the Fuel scored twice on 13 shots in the first.
Indy took a 1-0 lead 7 minutes, 27 seconds into the game. Logan Nelson batted it a puck out of midair, and it went to review. But referee Alex Normandin ruled the stick was under the level of the crossbar and the goal stood.
Indy goalie Colton Phinney, who finished with 42 saves, stood up to a barrage of 17 shots in the first and 18 in the third.
The teams combined for six goals over the first 9:17 of the second.
Redmond allowed his third goal just 1:46 into the period on a long shot from Rissling. Exactly 30 seconds later, Zach Miskovic scored on another long shot to put Indy up by four.
Watson then called a timeout, and 20 seconds later the Walleye got on the board when Barnes finished a solo breakaway. Toledo then got back into the game with Nastasiuk's power-play goal.
However, Redmond gave up a fifth goal and was pulled with 13:25 left in the second. Rissling then scored his second to put the Fuel up 6-2.
"It was a tough outing for Angus there. I'm sure he wants a couple of those back," Watson said. "He was battling it a little bit. They were screening and tipping pucks. It was a tough game for him. But hopefully, he can rebound and get back at it."
The Walleye wouldn't go away quietly, as Barnes tallied his second of the game. His 16th of the season came after a nice give-and-go from Mike Borkowski to make it 6-3.
"We didn't have the start we wanted, but we pushed back pretty well," Barnes said. "You never want to lose. That's our mentality. It's hard to look at positives now. But we fought hard. We were never out of this game."
Toledo then killed off a lengthy 5-on-3 power play. Hilbrich then scored on a one-timer blast with 7:36 left in regulation to make it 6-4. Toledo then had several glorious chances on a power play with 5:31 remaining. A.J. Jenks hit the post and the Walleye had six shots.
Nagle then was pulled for the extra attacker with 1:54 left. The Fuel sealed it with 13 seconds to go on an empty-net goal by Johnny McInnis.
"They have one of the deepest lineups in the league from top to bottom," John said. "If you look at their record at home, they've been playing so well. We just want to get in [the playoffs] and we know we'll face one of the two best teams in the league. But once you are in anything can happen."
Indy had defeated Cincinnati on Friday and Kalamazoo on Saturday — two teams the Fuel are chasing in the Central.
"We still had an opportunity to beat them. That's the crazy thing," Watson said. "They won the game. Good for them. I'm still not impressed. We'll face them again on Saturday. It would be a fun matchup for us [in the playoffs]."
The paid attendance was 7,453, marking the 24th sellout of the season.
After wrapping up the three-game homestand with a 2-1 record, Toledo embarks on a four-game road trip. The Walleye play at Quad City on Wednesday and Friday before playing at Indy on Saturday and at Cincinnati on March 18.
The Walleye return home March 24 against Brampton.
"You're going to have these games," Watson said. "But we battled. We haven't had too many of these all year. So we flip the page. We refocus."
Contact Mark Monroe at: mmonroe@theblade.com, 419-724-6354, or on Twitter @MonroeBlade.
Guidelines: Please keep your comments smart and civil. Don't attack other readers personally, and keep your language decent. Comments that violate these standards, or our privacy statement or visitor's agreement, are subject to being removed and commenters are subject to being banned. To post comments, you must be a registered user on toledoblade.com. To find out more, please visit the FAQ.