Walleye edge the Indy Fuel 4-3 in Game 2 of Central Division semifinals
4/15/2018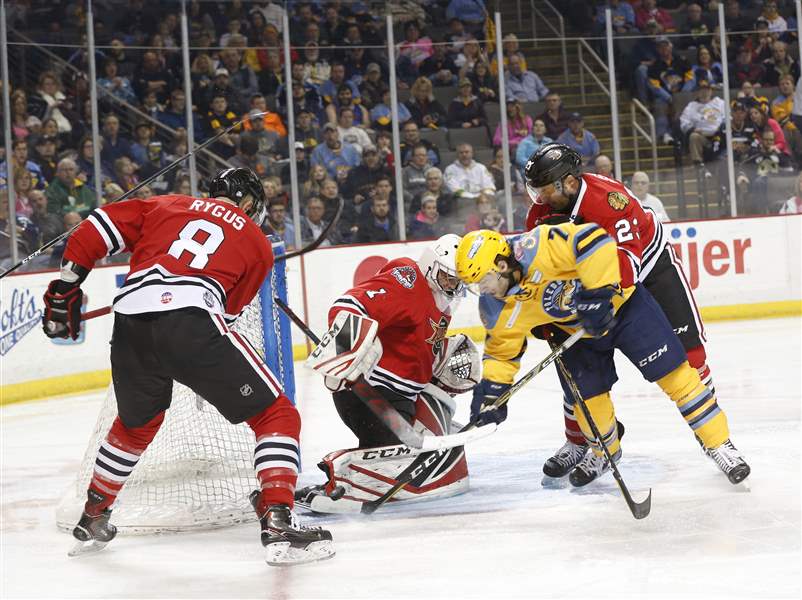 Indy Fuel defenders, including goalie Etienne Marcoux, Chris Rygus, left, and Jaynen Rissling, prevent Toledo forward Tyler Barnes from scoring during their first round ECHL playoff game Sunday at the Huntington Center. The Walleye won, 4-3, to take a 2-0 lead in the series.
Blade/Jetta Fraser
The Toledo Walleye slugged it out with the Indy Fuel in another tightly-contested playoff showdown and a trio of Walleye forwards provided the knockout punch Sunday.
Christian Hilbrich scored two goals, Tyler Barnes had three assists, and fellow linemate Kyle Bonis added two assists as the Walleye held off Indy 4-3.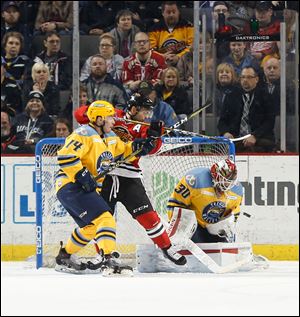 Toledo goalie Pat Nagle makes a stop on a shot by Matt Rupert of the Indy Fuel.
Hilbrich broke a 2-2 tie early in the third period of Game 2 of a Central Division semifinal series before an enthusiastic crowd of 6,793 at the Huntington Center. Hilbrich has opened the series simply on fire with four goals in the first two games for Toledo, which has taken a 2-0 lead in the series.
"It's huge to be up 2-0," Hilbrich said. "With playoff hockey, it's a lot tighter. Everyone wants to perform. It's an awesome experience. The atmosphere is so great. But each game is harder than the last. Each game has come down to the last second. We're going to turn the page. We will keep focused."
DAVID BRIGGS: Crisp's suspension 'worth it,' but Walleye need to be smarter
On the pivotal goal, Hilbrich finished off a smooth passing sequence from Bonis to Barnes as he then had a simple tap-in into an open net 1 minute, 27 seconds into the third period.
Walleye goaltender Pat Nagle once again was steady, then phenomenal at times. Nagle, who had to be strong throughout, finished with 29 saves.
Toledo forward Austen Brassard cemented the victory with a goal with 2:25 remaining in regulation with what turned out to be the game-winner.
Top-seeded Toledo led 1-0 after one, then rallied to tie it at 2 after falling behind for the first time in the series in the second. Hilbrich scored on his team's first shot of the third.
Indy rookie goalie Etienne Marcoux, who finished 26 saves, also played well. Marcoux was pulled for the extra attacker with 1:52 to go, and the Fuel scored with 40.1 seconds left on a power-play goal from Ryan Ruppert. But the Walleye, who were outshot 32-30, held off the late charge.
The best-of-7 series now shifts to Indy. The Fuel host Game 3 on Wednesday and Game 4 on Thursday. The teams have now played 11 times, and seven have been one-goal games.
"This is what you're going to see night in and night out in this series," said Barnes, who scored the game-winner Friday. "It's good playoff hockey. You're fighting for your life. It was good to come out on top. It's nice to get the first two under our belt. But we'll have to get ready to flip the switch because they get the home games now. They will be fired up. It will be close again."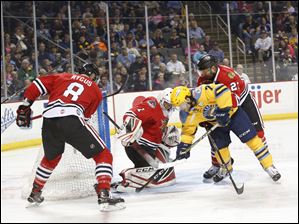 Indy Fuel defenders, including goalie Etienne Marcoux, Chris Rygus, left, and Jaynen Rissling, prevent Toledo forward Tyler Barnes from scoring during their first round ECHL playoff game Sunday at the Huntington Center. The Walleye won, 4-3, to take a 2-0 lead in the series.
Hilbrich kept his red-hot start to the postseason going with a goal in the first. Hilbrich, who scored two goals in Toledo's 4-3 in double overtime Friday against the Fuel put the Walleye up 1-0 with 11:54 left in the first period. He laced a snap shot that zipped by Marcoux after a pass from behind the side of the Indy net from Barnes.
The line of Hilbrich, Barnes, and Kyle Bonis have been clicking on all cylinders in the series.
"Bones and Barnes have been hot the entire season and especially in the last third of the season," Hilbrich said. "To play with those two is a pleasure. That last goal I scored … they made the play and I just waited for the puck. It's fun and easy to play with those guys."
Hilbrich, Barnes, and Bonis have combined for 15 points in the playoffs already.
"It was a real dynamic line," Walleye coach Dan Watson said. "They did a great job. Hilly is using his body the right way. He's physical. He's taking pucks to the net. Bones with his speed has the capability to out-skate anybody and then Barnes is a playmaker. He has the theatrics for big plays in big games."
Barnes said Hilbrich and Bonis are ideal linemates.
"Hilly is a very smart player. He plays hard," Barnes said. "He's a big body going to the net and he can finish. That's a lot of things you don't see out of big guys often. He's a special talent."
The Fuel answered with two goals in the first 2:34 of the second to seize the lead. Indy, which had the top power-play unit in the ECHL during the regular season, tied it at 1 when Johnny McInnis scored a man-advantage goal on a rebound 1:07 into the period.
The Fuel then took their first lead of the series, when Nathan Noel scored on a deflection off a shot from Jack Burton.
Indy seized momentum after taking the lead. They outshot Toledo 8-4 in the first 12 minutes of the second as Nagle had to come up with several good stops.
Watson said his team's effort was there the whole time and extended pushes of pressure were expected from the Fuel.
"They are going to do that. It's playoff hockey," Watson said. "They are a big team. They protect pucks and cycle pucks. They will have time with the puck. You have to keep things to the outside. It's how quickly you steal that momentum back. When we got down 2-1, we got the goal to tie it and the momentum was riding with us."
Toledo tied it up at 2 with 3:50 left in the second, when Colin Jacobs capped a string of several quality chances by the Walleye. Jacobs tipped a shot by Patrick McCarron that eluded Marcoux.
The Walleye went 7:29 without a shot in the second, then had a flurry of chances. Toledo tied it with the quick spurt. Marcoux made a terrific save on Mike Embach, who had three chances during the moment of heavy pressure. Jacobs scored his first of the series to tie it up.
Toledo was playing without forwards Mike Borkowski and Connor Crisp. Borkowski was called up to Grand Rapids of the AHL, while Crisp was suspended for the game as the result of his actions in Friday's game. Indy defenseman Garrett Clarke also was suspended for the game because of his actions in the same incident.
The Walleye, who had the second most points at home during the regular season, went 6-0 at Indy this season.
"When you work so hard to get home ice, you have to take advantage of it," Watson said. "And that's what we did. All we've done is take care of home ice."
Contact Mark Monroe at: mmonroe@theblade.com, 419-724-6354, or on Twitter @MonroeBlade.