After two successful ECHL seasons as head coach of the Toledo Walleye, Dan Watson has thrown his hat into the ring for several coaching positions at the higher level American Hockey League.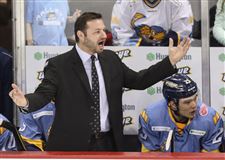 Walleye head coach Dan Watson reacts to a call. Watson is in the mix for coaching jobs at the AHL level.
BLADE PHOTO Enlarge
Watson confirmed he has been in talks with several AHL teams regarding vacant coaching positions, including an open spot with Toledo's fellow Detroit Red Wings affiliate in Grand Rapids.
"Everyone has personal goals they want to achieve," Watson said. "My personal goal is to be a head coach or assistant coach in the NHL. My goal is to coach at the highest level possible."
Watson has been with the Walleye organization since its inception in 2009, first as an assistant before becoming head coach in 2016.
The former Toledo Storm defenseman led the Walleye to regular-season conference and division championships the past two seasons. Watson has led Toledo to the Kelly Cup playoffs in both of his seasons, taking the team to the Western Conference final series his first year and the second round in 2017-18.
Watson said he has the full support of team officials.
"It's exciting that Toledo [officials] allow us to venture out and explore opportunities. We're very fortunate to have that support," Watson said. "As of today, I'm still the head coach of the Toledo Walleye."
The 39-year-old native of Glencoe, Ont, said he would be interested in accepting a head coaching or assistant position in the AHL.
"I've had several phone calls from different clubs," Watson said. "I have some things in motion. I'm in talks with a couple of different teams, not just [Grand Rapids]."
The top spot in Grand Rapids became open, when Todd Nelson left to become an assistant with the Dallas Stars. Nelson coached the Griffins the past three seasons and led them to the AHL championship in 2016-17.
Officials with the Red Wings announced Monday the Griffins' new coach would be named Tuesday.
Ryan Martin, the Red Wings assistant general manager, told MLive he expects to promote a coach within the organization.
"We will certainly look first inside the organization," Martin told MLive.
Ben Simon and Bruce Ramsay, who were assistants in Grand Rapids under Nelson, also have expressed interest in the job.
Watson said like the players he has helped to develop in the ECHL, he would like to move up.
"My goal has always been to advance," he said. "If it's an assistant position, there has to be room for growth and movement."
Watson guided the Walleye to a 106-point season in 2016-17 and to 105 points this past season.
Toledo went 50-17-5 record for a .729 winning percentage, finishing first in the Central Division and Western Conference this past season under Watson. The Walleye then swept Indy in a Central Division semifinal series before losing to Fort Wayne by a 4-2 margin in the Central Division final series.
Watson led the Walleye to a 51-17-4 record in 2016-17 as the team captured the Brabham Cup for the ECHL's top regular-season record. Toledo then reached the Western Conference final series, where it lost to Colorado 4-1.
Watson said with the success the Walleye have had the past two years, many on the team's staff have received interest from higher level teams.
"Our support staff has gotten some phone calls," he said.
Watson, who was an assistant under the Walleye's first coach Nick Vitucci for five seasons, helped lead a recent surge starting in 2014-15. Watson was an assistant under Derek Lalonde, when Toledo posted the greatest turnaround in ECHL history that year on the way to a conference finals appearance.
Lalonde left to become the head coach of the AHL's Iowa Wild after the 2015-16 season, then Watson took over as head coach. The Walleye have made the playoffs four consecutive seasons.
"Sometimes you have to strike when the iron is hot, so I'm seeing if there are any offers," Watson said. "But it has to make sense. Family is first. It has to make sense for the entire family."
Watson said he remains fully committed to building the Toledo roster for next season. He has been on the recruiting trail since the season ended May 8 and expects a big roster turnover with less than five players returning.
"We were due for a major overhaul," he said. "It's not unexpected."
Watson said also Toledo is an attractive place to coach.
"With the resources and the way the organization is run, it's the top spot to coach in the ECHL," he said.
Contact Mark Monroe at: mmonroe@theblade.com, 419-724-6354, or on Twitter @MonroeBlade.
Guidelines: Please keep your comments smart and civil. Don't attack other readers personally, and keep your language decent. Comments that violate these standards, or our privacy statement or visitor's agreement, are subject to being removed and commenters are subject to being banned. To post comments, you must be a registered user on toledoblade.com. To find out more, please visit the FAQ.