Jason Klatt has one of the worst views of a Mud Hens game — and, at the same time, one of the best views of all the action at Fifth Third Field.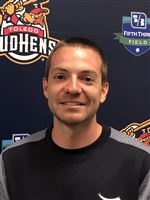 Mud Hens video coordinator Jason Klatt is a Clay High School and UT alumnus.
THE BLADE/JOHN WAGNER
Enlarge | Buy This Image
Klatt is the Mud Hens' video coordinator, which means he tracks all of the technology that records information from games at Fifth Third Field. So his view of the "action" is terrible, since he watches games from a room deep in the Toledo clubhouse.
But at the same time his clubhouse seat shows every play from a number of different cameras positioned around the ballpark. What's more, he has access to a vast array of details such as pitch speeds, launch angles, and all the new information that surrounds the game.
It has been a dream job for Klatt, a 2006 Clay High School product who graduated from the University of Toledo with a degree in business management in 2011. Klatt is in his sixth season working for the Tigers, spending two years as video coordinator for Short-Season Connecticut and two at Double-A Erie before taking this job with the hometown Hens before last season began.
The Blade: What does the Mud Hens video coordinator do?
Jason Klatt: "There's a wide range of things that I do. It could be anything from scouting reports and spray charts on hitters from the other team to scouting reports on the other team's starter. I'll get video on the other team's hitters, and [pitching coach Jeff] Pico will come in and jot down notes to share with the pitchers during their meetings.
"During the game I'll collect all the video of our guys: pitching and hitting, catcher throws, throws from the infielders and outfielders. We'll use TrackMan, and we have a new thing called Rapsodo that we use to track bullpens for pitchers and adds hitting measures like launch angle and exit velocity.
"The job combines advance scouting, video, and analytics into one job."
How did you get this job?
"When I was attending the University of Toledo, I started out as an intern in the Swamp Shop. As school finished, I got an internship working in the clubhouse with the Tigers. Then I went to spring training, and while the games were going on I watched what the video people were doing and thought it was pretty cool. I talked to the video guys, and it evolved from there."
It had to be pretty exciting when this type of job opened up for you, wasn't it?
"I knew I wanted to work in baseball. And to have this job with the Tigers, the team I grew up following, and working with the Mud Hens, the team I grew up watching, has been a cool experience."
VIDEO: Jason Klatt tells us which Mud Hens players use the TrackMan video information the most.
You mentioned TrackMan; what kinds of things does it measure?
"Our system measures 20 to 25 different data points on each pitch. It measures the arm slot and release point for each pitch, the pitcher's arm extension and strides, and the spin rate and movement both horizontally and vertically for each pitch. And it measures each pitch in the zone.
"For hitters it measures launch angle and exit velocity, distance the ball travels. There are a lot of different measures."
What kinds of things does Rapsodo measure?
"It is basically a portable TrackMan. TrackMan is used during the game, and Rapsodo is used for bullpens for pitchers as well as batting practice on the field and in the batting cage. After each pitch, it has all of the details immediately available. For example, a pitcher can throw a pitch, and if they like it they can see everything they do and replicate it."
What kinds of information do you produce in your scouting reports?
"One thing I get is spray charts for each hitter, and that's something [manager] Doug [Mientkiewicz] uses a lot. For opposing pitchers we produce the 'pitch percentages,' breaking down for each count what pitches a pitcher uses the most — and broken down against right-handed and left-handed hitters."
The other element where this system comes into play is in player development. How is this information used?
"The big thing now is launch angle. Everyone is trying to find that common ground between the right launch angle and right exit velo. The game has really changed because of that."
Has this job changed the way you view the game?
"Definitely. You don't just watch the game; you watch how a guys swings the bat or a pitcher's mechanics, and you watch how teams shift defensively. I don't watch it as a fan. I notice a lot more little things."
Do you like how this has changed your view of the game?
"I do. It's pretty cool that, when I watch with other people, I can show them little things to watch and learn from. And that's fun."
Is there a particular area where your view has changed the most?
"One thing this job has done is make the players more human to me. When you watch guys on TV, all you see is how they play the game. Now I see them with their families, how they interact with one another off the field — it's a different level. I see guys who are trying to support their families by getting to the big leagues."
What do you see in your future in terms of a job?
"I like the scouting part, and I like the player development part. I like working with the younger guys, watching them grow and progress. For now I like this work, and I'll just see what happens in the future."
Contact John Wagner at jwagner@theblade.com, 419-724-6481, or on Twitter @jwagnerblade.
Guidelines: Please keep your comments smart and civil. Don't attack other readers personally, and keep your language decent. Comments that violate these standards, or our privacy statement or visitor's agreement, are subject to being removed and commenters are subject to being banned. To post comments, you must be a registered user on toledoblade.com. To find out more, please visit the FAQ.