Some might call him an unwelcome visitor at Fifth Third Field. The Toledo Mud Hens call him the Rally Opossum.
An opossum waddled onto the field before the bottom of the 10th inning of Tuesday's game against Buffalo, scampering along the warning track in deep center field before disappearing into a hole underneath the outfield fence.
As if on cue, Jim Adduci hit a two-out game-winning double — and a legend was born.
"The fans got a kick out of it," Toledo outfielder Jason Krizan said. "We heard Rally Opossum chants, and that was pretty cool."
The opossum is not the only creature serving as a good-luck charm in the organization. Detroit adopted a Rally Goose after a Canada goose showed up during a rain delay at Comerica Park, crashed into a scoreboard, and spurred the Tigers to a victory.
VIDEO: The rally opossum in the Fifth Third Field outfield (Video courtesy of Toledo Mud Hens)
"The Tigers get a swan, and we get a rodent," Mud Hens manager Doug Mientkiewicz cracked after Toledo's comeback win. "And that's fine with us. It worked."
Hens fans should not expect the Rally Opossum to make another live appearance as the entrance to his den has been boarded up, meaning he will have create a new way to come onto the field.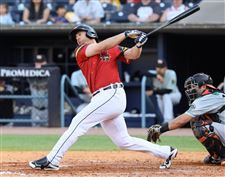 Chad Huffman leads IL position players in votes ahead of the IL All-Star Game, which is set for July 11 in Columbus.
BLADE/JEREMY WADSWORTH Enlarge
VOTE LEADERS: The latest look at the leaders in fan balloting for the Triple-A all-star game shows a number of Mud Hens at the top of the International League charts.
Chad Huffman is the top votegetter to serve as the IL's designated hitter, and he also has received more votes than any other position player in the league. Ronny Rodriguez tops shortstops in votes, while Christin Stewart is first and Adduci third in the race for the three outfield spots.
Edwin Espinal is fourth in the balloting at first base, Krizan is ninth among outfielders, and Josh Turley is 10th in voting for starting pitchers.
The online fan ballot is one of three measures that will be used to choose the IL roster for the contest, which will be played at Huntington Park in Columbus on July 11. A vote of league media and a poll of IL managers and general managers will determine the roster.
Fans can vote up to 25 times per day by clicking on this link.
MORE TIGERS COMING: Detroit starter Jordan Zimmermann was expected to make one more rehab start for the Mud Hens, but now it will be Monday at Low Single-A West Michigan.
Another Tigers starter, left-hander Francisco Liriano, is expected to throw a simulated game early next week, then make a rehab start. If that start is made with the Hens, it likely would come during the June 15-17 weekend when Toledo hosts Louisville.
Contact John Wagner at: jwagner@theblade.com, 419-724-6481, or on Twitter @jwagnerblade.
Guidelines: Please keep your comments smart and civil. Don't attack other readers personally, and keep your language decent. Comments that violate these standards, or our privacy statement or visitor's agreement, are subject to being removed and commenters are subject to being banned. To post comments, you must be a registered user on toledoblade.com. To find out more, please visit the FAQ.