For buyers now house hunting in metro Toledo, a word to the wise: Think very carefully about the offer you submit to a seller.
The inventory of homes available for sale in Lucas and northern Wood Counties, plus the number of days it takes for a home to sell both dropped significantly in September, making it ever more likely that homes listed for sale will draw competing offers.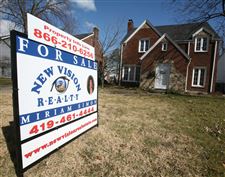 The housing market appears to be tightening in the Toledo area.
The Blade/Jeremy Wadsworth
Enlarge | Buy This Image
Mark Remeis, president of the Toledo Regional Association of Realtors, remains hesitant to call the area a seller's market. But the sales trend leans more towards a seller's market than the reverse, he said.
According to figures released Wednesday by the local Realtors group, September home sales in the metro area closely mirrored those of a year ago. There were 548 sales that closed last month, a 1 percent increase over the same period last year.
"It seems like we've been in a pretty similar pattern the last several months. If you look at the September numbers, the sales were the same as last year," said Mr. Remeis, of A.A. Green Realty in Bowling Green.
But inventory levels dropped while home prices rose, both indicators of a tightening market, Mr. Remeis said.
"We don't want buyers to think 'I'm not even going to jump in because I don't want to fight with three other offers' because that's not always the case," Mr. Remeis said.
But the president of the Realtors group said there continues to be "more multiple-offer situations and more homes going under contract quickly."
The median sales price rose 4 percent in September to $118,000 while the average sales price rose 9 percent to $149,000.
Inventory levels dropped 20 percent last month compared to a year ago, and homes in September spent an average of just 87 days on the market, a 9 percent drop from a year ago.
In the overall eight-county, multiple-listing service region served by the Realtors group, home sales were down 3 percent to 750 units. The median price rose nearly 12 percent to $121,250 while the average price rose 11 percent to $149,143.
Inventory in the region fell 17 percent to 3,004 units for sale, while homes spent 90 days on the market, down 9 percent. The region has a 4.3 months supply of homes for sale, but a year ago it was 5.3 months.
Mr. Remeis said he has told real estate agents he supervises to instruct their clients to research markets and neighborhoods they wish to be in — because if a home comes up for sale they must move quickly.
Also, offers on homes cannot be unrealistically low.
"If a property comes in you can't say 'Let's go in soft here and hope we get a pretty good deal.' We have had enough buyers who have lost out on one, two, or three houses that way," Mr. Remeis said.
"What I tell them is, right now we have to go in with a very strong offer right away because there may not be a second chance," he said.
Mr. Remeis said it also doesn't hurt to make cash offers — if that is an option. Likewise granting the buyer more time before taking possession, or even writing a nice letter to the seller can help, too.
"Those little things that make your offer stand out are really important right now," he said.
Mr. Remeis said recently he had a client trying to buy a home with multiple offers. However, the sellers were still looking for a home to move to.
The buyer "gave the seller 30 days after purchase before taking possession" so the seller didn't have to move to an apartment while they were house hunting, and the extra time sealed the deal.
"That 30 days in that case was huge," Mr. Remeis said.
Contact Jon Chavez at jchavez@theblade.com or 419-724-6128.
Guidelines: Please keep your comments smart and civil. Don't attack other readers personally, and keep your language decent. Comments that violate these standards, or our privacy statement or visitor's agreement, are subject to being removed and commenters are subject to being banned. To post comments, you must be a registered user on toledoblade.com. To find out more, please visit the FAQ.