Vacant St. Anthony Church set for demolition in 2018
12/6/2017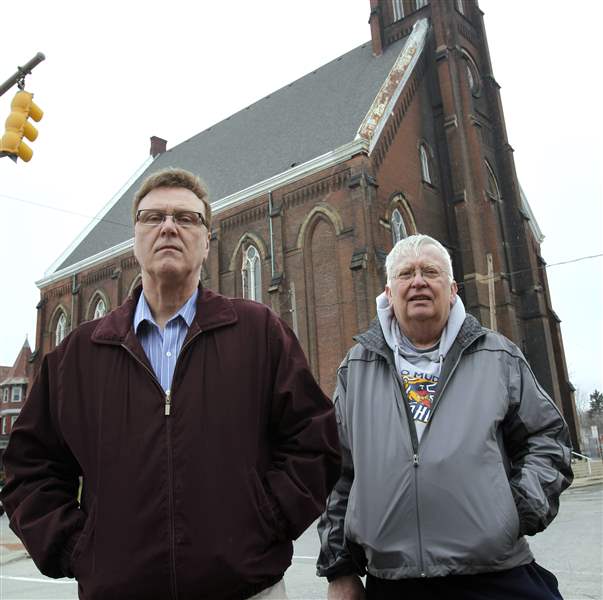 In this file photo, Rick Napierala, left, and Tom Robakowski, stand outside the former St. Anthony Catholic Church.
THE BLADE/DAVE ZAPOTOSKY
Buy This Image
St. Anthony Catholic Church, which has stood vacant at Nebraska and Junction avenues for more than a decade, is set to be demolished next year, with the property then to be donated to a neighborhood outreach center.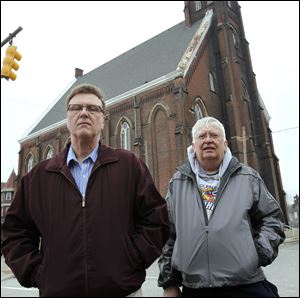 In this file photo, Rick Napierala, left, and Tom Robakowski, stand outside the former St. Anthony Catholic Church.
The landmark church, with a towering steeple that dominates views along Nebraska for many blocks in either direction, has not been used for liturgical services since 2005, when then-Bishop Leonard Blair announced that it would be among 17 churches in the Diocese of Toledo to close that year.
At least a dozen more were merged into new parishes in a move forced by a declining number of priests and shifting population patterns among parishes.
The vacant church has recently shown signs of deterioration, the diocese said in a statement Wednesday. Sacred items have been removed from its interior, and water and heat have been shut off.
The cleared property is to be given to the Padua Center, an outreach of St. Martin de Porres Parish that has been operating out of the former St. Anthony rectory since 2006 and is working toward establishing itself as a separate nonprofit organization.
Now directed by Sister Virginia Welsh, Padua was founded by the Toledo diocese and later developed into an outreach of St. Martin de Porres, a parish located in the Old West End. Diocesan leaders hope the church land will particularly support Padua's urban agricultural efforts.
"Realizing the significance of the Padua Center to the neighborhood where it is located, the Diocese has worked diligently with both the Padua Center's Board of Directors and members of Saint Martin de Porres Parish to arrive at a solution that will help the Center to support the community while addressing safety concerns on the property," the Rev. Monte Hoyles, the diocesan chancellor, said in a statement.
St. Anthony Church opened in the late 1800s, when a rapid increase in the number of Polish families in the neighborhood began to overtax the ethnically Polish St. Hedwig Parish. Parishioners began gathering in 1882 in a modest church on the property, which had been purchased for $1,000 the previous year.
The current Gothic structure welcomed visitors to an inaugural Mass in 1894. Its membership had dwindled to a few hundred by the time of its closing.
A parish school also operated on the property between 1901 and 1972.
Contact Nicki Gorny at ngorny@theblade.com or 419-724-6133.