It's a day that's as anticipated by Muslims as Christmas is by Christians.
But if this week's arrival Eid al-Fitr catches non-Muslims by surprise — if, perhaps, they seem to remember friends gathering for the fast-breaking iftars when the weather was a bit frostier than current summertime temperatures — it might not be unreasonable.
Eid al-Fitr, which marks the end of the Islamic month of Ramadan, is set according to a traditional lunar calendar whose months drift in relation to sun-based Gregorian calendar.
"It happens at a different time every year because the lunar cycles do not line up with the solar cycles," said J. Gordon Melton, editor of an encyclopedia on religious celebrations and a distinguished professor of American religious history at Baylor University in Texas. "So one has to do some heavy calculations to find out when Ramadan is going to be every year."
Mr. Melton is well versed on the calendrical systems — lunar, solar or lunisolar — that dictate when adherents of major world religions celebrate their holiest days. Each culture that gave rise to its own religion gave rise to its own time-keeping system, he said, often aligning significant religious observances with significant astrological observances like the solstices and equinoxes.
That's especially true of the world's oldest religions, he said, established when astrology and astronomy were one and the same and adherents spent significant time gazing at the skies.
"The spring equinox, summer solstice and the winter solstice seem to be the most widespread holidays," Mr. Melton said. "They pop up in all kinds of different places as people begin to observe the heavens and begin to order their lives around those particular points that appear every year."
Easter and Passover are set each year in relation to the spring equinox, for example; Mr. Melton said that early Christians likely selected Dec. 25 as the date for Christmas based on the date of Saturnalia, a Roman observation of the winter solstice.
A second category of holy days in religions around the world tend to reflect significant days in the life of a founder or the history of the followers, Mr. Melton said: The Baha'i Faith, relatively recently established in the mid-19th Century, stands as one example with its twin holy days that recognize the births of its two founding figures; Hinduism offers another, with numerous observations related to important dates in the lives of deities.
Even as cultures around the world largely conduct business today based on a shared calendar — one that recognizes the current month as June, rather than Ramadan, Sivan, Jyaistha, or Núr — these religious calendars remain prominent in faith communities, where they lend a rich history to the celebration of spiritually significant days.
Eid al-Fitr
Local Muslims are set to celebrate Eid al-Fitr on June 15, the date that corresponds to the first day of the Shawwal, the 10th month on the Islamic, or Hijri, calendar; Shawwal immediately follows Ramadan, the ninth month, whose characteristic sunup to sundown fasting is one of the five pillars of Islam.
As is the annual tradition locally, members of numerous area mosques and community centers are set to gather for prayer, followed by food and festivities, at the SeaGate Convention Centre beginning at 9 a.m. The Islamic Center of Greater Toledo will holds a similar observance at 10 a.m., with an earlier worship service at 7 a.m. accommodating those who work on Friday.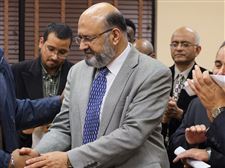 Zaheer Hasan
THE BLADE/JEREMY WADSWORTH
Enlarge | Buy This Image
"We hope that it will be a joyous occasion for our community and the people of northwest Ohio," said Dr. Zaheer Hasan, spokesman for the Islamic Society of Northwest Ohio.
Eid al-Fitr will largely be celebrated around the world on the same day. But it isn't always — and, for a time, it looked like it wouldn't be this year.
Ovamir Anjum, Imam Khattab endowed chair of Islamic studies at the University of Toledo, explained that it's not uncommon to have a one-day difference in observations of Eid al-Fitr around the world. That reflects debate in Muslim circles over whether the new moon that indicates the first day of Shawwal should be identified by calculation or by observation.
"The question is whether the beginning of a sacred month should be tied to the birth of the moon as a scientific event or the sighting as a communal event," Mr. Anjum said, explaining that while the former affords better planning, the latter offers a stronger connection to God and nature. "That is why some of the scholars object that calculation disconnects you from nature, from God's signs, and it becomes just like any other calendar."
Cloud-obstructed skies initially put in question whether the beginning of Ramadan for those who favor calculations would align with the beginning of Ramadan for those who favor observation. But, happily, Mr. Anjum said, a qualified set of observers finally did take note of the moon on the same day that calculations indicated it should appear.
Sky connection
A lunar-centric calendar made sense in the culture and community that gave rise to Islam and, relatedly, its Hijri calendar, Mr. Melton said. A tropic climate meant warm temperatures year-round, with little of the seasonal temperature fluctuations that other communities were taking into account in designing their calendars.
"The movement of the sun in setting the annual cycle is not as important," Mr. Melton said.
Calendars in Judaism and Hinduism, alternatively, are lunisolar: They consist of 12 lunar months, which account for a full year that's just a few days shy of a solar year. Each system has a way of accounting for the difference, generally by adding an additional month as needed.
Baha'is follow a unique solar calendar consisting of 19 months of 19 days, making up for a 365-day solar year by celebrating four of five "intercalary" days each year.
The alignment of the lunar calendars to the solar year — and consequently to the solar-based Gregorian calendar — ensures that although individual holy days might shift in relation to the Gregorian calendar, they typically remain in the same month or season.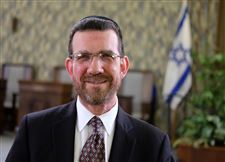 Rabbi Evan Rubin
The Blade/Dave Zapotosky
Enlarge | Buy This Image
"Passover has to fall in the spring," Rabbi Evan Rubin of Congregation Etz Chayim said. "Sukkot has to fall in the fall."
(Sukkot is a Jewish festival that commemorates the shelter provided to the Israelites in the wilderness.)
The Hebrew calendar has been in use for millennia, and when Christianity emerged as a relatively newcomer, its earliest adherents used it as well, Mr. Melton said.
A 4th Century dispute between Jews and Christians led Christians to shift to the Julian calendar, established by Julius Caesar, he continued. Most Christians — with the notable exception of Eastern Orthodox Christians, who continue to celebrate Easter based on the Julian calendar — later shifted to the Gregorian calendar, named in credit to the 16th Century Pope Gregory XIII, who designed the calendar that is still in use today.
(It's undergone some revisions, particularly in the 1880s to better facilitate international shipping, Mr. Melton said.)
That means that the most widely used calendar has Christian roots, accounting for fixed-date celebrations like Christmas or many of the feasts celebrated by the Roman Catholic Church.
But if conversations about "early" or "late" observances in other faiths feel too hard to keep straight, particularly when superimposed on a Gregorian calendar, there's no need to worry: Google, as Professor Anjum pointed out, has a pretty good handle on it.
Contact Nicki Gorny at ngorny@theblade.com or 419-724-6133.
Guidelines: Please keep your comments smart and civil. Don't attack other readers personally, and keep your language decent. Comments that violate these standards, or our privacy statement or visitor's agreement, are subject to being removed and commenters are subject to being banned. To post comments, you must be a registered user on toledoblade.com. To find out more, please visit the FAQ.