Libbey Inc. will soon open a showroom in Chicago that's tucked in near the offices of some of the largest foodservice and hospitality companies in the nation, the company said Thursday.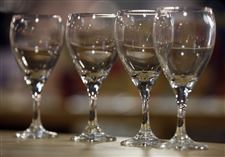 A display of Toledo-made Libbey glass stemware. The local company will showcase its wares at a new showroom in Chicago.
THE BLADE
Enlarge | Buy This Image
Company officials say the showroom will be an important tool to get their new products in front of buyers who represent restaurants and hotels across the Midwest.
This weekend alone, Libbey will introduce more than 350 new items at the annual National Restaurant Association Show in Chicago. The showroom's opening on Saturday coincides with the opening day for the four-day trade show, which draws more than 45,000 industry representatives.
Among the new products are premium glassware targeted toward bourbon drinkers, and a new line of porcelain tableware that has a special feature in the glaze meant to prevent growth of stain-causing bacteria. They're also debuting a new line of tea service items, which they say is based on a growing rate of tea consumption among millennials.
"The new products launching at NRA represent some of the most innovative in Libbey history," Bill Foley, Libbey's chairman and chief executive officer, said in a statement. "Expect Libbey to keep serving up our experience with innovative products for years to come."
Libbey, which has been headquartered in Toledo for more than 125 years, announced the new showroom Thursday. The company also has a showroom across the street from its downtown Toledo offices and one on Madison Avenue in New York City.
Chicago, though, holds a special place in the company's history and its expansion into a nationally known name.
In 1893 — against the advice of his board — Edward Drummond Libbey arranged to build a massive pavilion on the midway at the World's Columbian Exposition that featured a fully functional glass factory.
One of the board's primary concerns was the cost. The project came in at some $200,000, equal to more than $5 million today. Mr. Libbey financed most of it himself.
It was a big bet, but it paid off.
According to a 1979 company history written by Carl Fauster, more than 2 million people went through the exhibit, which featured a wide array of Libbey's wares and novelty items such as a dress made of spun glass. Visitors could watch glass being made and cut by the company's craftsman who were brought from Toledo.
Libbey also sold a variety of glass trinkets including a small hatchet embossed with George Washington's face and an egg-shaped salt shaker.
"The world's fair factory made Libbey famous from coast to coast as a maker of fine glassware," Mr. Fauster wrote.
Contact Tyrel Linkhorn at tlinkhorn@theblade.com or 419-724-6134.
Guidelines: Please keep your comments smart and civil. Don't attack other readers personally, and keep your language decent. Comments that violate these standards, or our privacy statement or visitor's agreement, are subject to being removed and commenters are subject to being banned. To post comments, you must be a registered user on toledoblade.com. To find out more, please visit the FAQ.