A French company and a Wisconsin-based subsidiary of a Bowling Green firm have received job-creation tax credits from the Ohio Tax Credit Authority that are expected to help the two firms create a combined 122 new full-time jobs with payrolls totaling $5 million.
Treves, a maker of noise-reducing parts for cars that is headquartered in Paris, received a 1.186 percent tax credit over seven years that will help create 91 jobs that will pay an average of $37,362 per year in Fostoria, located in Seneca County. The jobs will create new payroll totaling $3.4 million.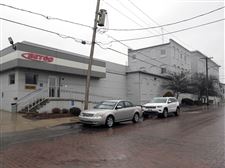 Betco Corp.
The Blade/Andy Morrison
Enlarge | Buy This Image
Treves plans to occupy a new 40,000-square-foot facility — built last summer as a spec building in the Fostoria Industrial Park — and start operations in April.
News reports show the company chose Fostoria over competing sites in Alabama, Michigan, and Mexico.
Treves supplies noise reduction parts and carpeting for several automakers, including General Motors, Ford, and Fiat Chrysler Automobiles.
Bio-Systems International, of Beloit, Wis., operates as an independent subsidiary of Bowling Green-based Betco Corp., a maker of cleaning products and equipment. Bio-Systems, which was acquired by Betco in 2010, is setting a new project in Bowling Green that is expected to create 31 full-time jobs and generate a payroll of $1.6 million.
It received a 1.322 percent, seven-year tax credit from the tax authority.
Tax credits for the two companies were part of a larger announcement Monday. At its monthly meeting the Ohio Tax Credit Authority awarded tax credits for 15 projects in 11 counties that are expected to create 2,338 new jobs and retain another 1,857 jobs.
Collectively, the 15 projects are expected to create $107 million in new payroll and spur over $477 million in investments across the state.
Contact Jon Chavez at jchavez@theblade.com or 419-724-6128.
Guidelines: Please keep your comments smart and civil. Don't attack other readers personally, and keep your language decent. Comments that violate these standards, or our privacy statement or visitor's agreement, are subject to being removed and commenters are subject to being banned. To post comments, you must be a registered user on toledoblade.com. To find out more, please visit the FAQ.