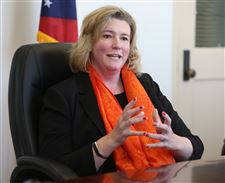 Dayton Mayor Nan Whaley
COLUMBUS — The field to become Ohio's new governor continues to shrink as Democratic candidate Nan Whaley plans to announce on Friday that she's pulling out of the race.
A source close to the decision confirmed that she will throw her support to Richard Cordray at a press conference Friday in Dayton.
This occurs as U.S. Rep. Jim Renacci, of Wadsworth, has opted to end his Republican campaign for governor and run instead for U.S. Senate seat now that front-runner Josh Mandel has dropped out of that race.
And the intention of former U.S. Rep. Dennis Kucinich to officially enter the Democratic field was further solidified with an invitation to friends and supporters to his official announcement on Wednesday.
Ms. Whaley is seen as a rising star within the Democratic Party and had tried to set herself apart in a crowded field.
She played up her local government background, championed her city's lawsuit against the pharmaceutical industry for Dayton's opioid crisis as she criticized the state's response, and called for a taxpayer-financed community college education.
But after participating in three official party debates, she's opting to end her campaign. Her campaign declined to comment.
She won't be out of a job, however. She was unopposed in her bid for re-election as mayor last year even as she campaigned for governor.
When Mr. Cordray entered the race in November, Ms. Whaley was critical of him, suggesting that his resignation empowered President Trump to "unravel" the Consumer Financial Protection Bureau he headed.
"Cordray is turning his back on the progress we've made and surely emboldening Trump and Republicans in Congress to dismantle this consumer watchdog organization," she said at the time.
The party appears to be consolidating behind Mr. Cordray, former federal consumer watchdog and Ohio attorney general and treasurer, particularly after his selection of Betty Sutton, a former opponent and former Akron area congressman, as his running mate.
The merger is Democrats' answer to what has been seen on the Republican side as the creation of a powerhouse and well-funded ticket of Attorney General Mike DeWine and Secretary of State Jon Husted, also former opponents.
Democrats are banking on a strong Democratic, mid-term election to help lift Mr. Cordray against Mr. DeWine, a man who defeated him for attorney general in 2010 in a strong GOP year.
Ms. Whaley's move leaves state Sen. Joe Schiavoni (D., Boardman), former Cincinnati area state Rep. Connie Pillich, Ohio Supreme Court Justice William O'Neill, and potentially former Cleveland U.S. Rep. Dennis Kucinich in the hunt.
The deadline for candidates to file nominating petitions is Feb. 7.
Despite entering the race late, Mr. Cordray has the backing of President Obama and U.S. Sen. Elizabeth Warren (D., Mass.), who created the federal Consumer Financial Protection Bureau that Mr. Cordray headed.
Republicans have for months assumed Mr. Cordray would be the party's nominee.
The Democratic field is now down to Mr. Kucinich, Ohio Supreme Court Justice William O''Neill, former Cincinnati state Rep. Connie Pillich, and state Sen. Joe Schiavoni (D., Boardman).
The only two major Republican candidates still standing are Mr. DeWine and Lt. Gov. Mary Taylor.
Contact Jim Provance at: jprovance@theblade.com or 614-221-0496.
Guidelines: Please keep your comments smart and civil. Don't attack other readers personally, and keep your language decent. Comments that violate these standards, or our privacy statement or visitor's agreement, are subject to being removed and commenters are subject to being banned. To post comments, you must be a registered user on toledoblade.com. To find out more, please visit the FAQ.