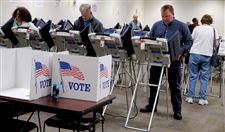 Voters cast their ballots during early voting at Toledo's Early Voting Center in May of 2018.
The Blade/Lori King
Enlarge | Buy This Image
In a 5-4 decision, the U.S. Supreme Court voted Monday to uphold Ohio's process of purging its voter rolls, arguing the system was consistent with federal regulations.
While legal experts contend the move is unlikely to shift federal election results in November, the purging policy's impact on smaller local elections remains unclear.
The practice in question, called Ohio's "Supplemental Process," dates back to 1994. It involves the state sending residents who have failed to vote for two years a pre-addressed, postage prepaid return card, asking that they respond to verify that they still live at the address. If voters do not respond and fail to vote in any election for four subsequent years, the state removes them from the rolls.
Delivering the opinion of the Court, Justice Samuel Alito argued that a reasonable person with an interest in voting would be unlikely to ignore the notice. The Court was not in the business of second-guessing Congress nor deciding whether Ohio's strategies were an ideal method to maintain accurate voting rolls, Justice Alito wrote. The sole question before the Court was whether it violated federal law, he added.
In dissent, Justice Sonia Sotomayor said minorities, veterans, low-income, and disabled voters will ultimately bear a burden of the system that marginalizes their influence.
"[The majority] entirely ignores the history of voter suppression against which the [National Voter Registration Act] was enacted and upholds a program that appears to further the very disenfranchisement of minority and low-income voters that Congress set out to eradicate," Justice Sotomayor wrote.
"Today's decision forces these communities and their allies to be even more proactive and vigilant in holding their states accountable and working to dismantle the obstacles they face in exercising the fundamental right to vote," she added.
But Justice Alito contended there was no evidence that Ohio employed or carried out the program with "discriminatory intent."
Edward Foley, director of election law at Ohio State University's Moritz College of Law, said that the decision was "narrow in its scope and potential effect," adding that anyone affected could re-register to vote. Those removed from voting rolls chose not to respond to the postcard and not to vote, he said.
"I don't think there's any real reason to believe that the drop-off is going to be significant," Mr. Foley said. "The Ohio law that was upheld in this case never disenfranchised anybody."
About 7,500 voters who were purged from Ohio voter registration rolls from 2011-2014 and then reinstated at the order of a federal judge eventually voted in the 2016 presidential election.
Those 7,500 voters would not have been enough to tip the presidential election from President Trump to Democrat Hillary Clinton, but scores of other Ohio elections have been decided by a handful of votes.
Now, Mr. Foley said, states can choose to implement a similar system to that of Ohio. But the decision is part of a broader trend whereby political parties compete "not just with their TV ads and their activities" but also "over the rules of the game."
Dan Tokaji, an election law expert and an attorney for the plaintiffs in the case, said the majority decision "misinterpreted and selectively quoted" from the National Voter Registration Act, "ignoring the [parts] they didn't like."
"The majority of the current Supreme Court is no friend to the right to vote," Mr. Tokaji said, adding that the decision came as no surprise.
While the federal elections this fall will likely be unaffected by the policy, Mr. Tokaji said, the practice of purging voters who are not voting may make a difference in smaller elections in local jurisdictions or in future elections.
Republican elected officials lauded the decision as a win for Ohio.
"Today's decision is a victory for election integrity, and a defeat for those who use the federal court system to make election law across the country," a statement from Ohio Secretary of State Jon Husted read. "This decision is validation of Ohio's efforts to clean up the voter rolls and now with the blessing [of the] nation's highest court, it can serve as a model for other states to use."
In a statement, Ohio Attorney General Mike DeWine said he was "pleased" the court sided with Ohio in its practice to maintain accurate voter rolls, writing that the process has been used by both Democrat and Republican secretaries of state.
Mr. DeWine is running for governor in November's general election, with Mr. Husted on the ticket as his running mate.
In a Twitter post Monday, Democratic candidate for governor Richard Cordray called voting "an American right" that "should not be politicized by anyone for political gain."
"Democracy relies on the participation of everyone and we should be making it easier to vote — not harder," he said.
Sen. Sherrod Brown (D., Ohio) said in a statement that Monday's decision was a threat to Ohioans' right to vote.
"Today's decision empowers Ohio to further strip away the right to vote for thousands of Ohioans, threatening the integrity of our state's election process," the statement read. "This ruling further shows why we can't afford to pack our federal courts with judges who have a track record of hostility towards Ohioans' most basic right."
The case decided by the Supreme Court on Monday started when the Washington-based A. Philip Randolph Institute and other plaintiffs sued Mr. Husted in 2016, challenging Ohio's voter-purging tactics on the grounds that they violated federal election laws.
The court agreed to hear the case in May, 2017, after a federal district court sided with Mr. Husted and the U.S. Court of Appeals for the 6th Circuit reversed that district court decision.
Clayola Brown, president of the A. Philip Randolph Institute, called the purging process "disgusting," adding that it disproportionately disenfranchises people of color, immigrants, and low-income people.
"It's hard to fathom how low down and dirty the purging process that was implemented in Ohio could be upheld by the Supreme Court," Ms. Brown said. "Now ... it will be a field day watching other states try to do the same thing."
Blade news services contributed to this report.
Contact Hailey Fuchs at hfuchs@theblade.com , 419-724-6050, or on Twitter @Hailey_Fuchs.
Guidelines: Please keep your comments smart and civil. Don't attack other readers personally, and keep your language decent. Comments that violate these standards, or our privacy statement or visitor's agreement, are subject to being removed and commenters are subject to being banned. To post comments, you must be a registered user on toledoblade.com. To find out more, please visit the FAQ.