What a year 2017 was for Farmers & Merchants Bancorp Inc., the Archbold-based community bank and parent of Farmers & Merchant State Bank.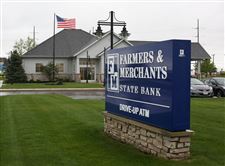 The Farmers & Merchants Bank at 7001 Lighthouse Way in Perrysburg.
The Blade
Enlarge | Buy This Image
In February it reported record earnings, assets, and total loans for 2016. Then April came along and American Banker magazine named it one of the nation's Top 200 publicly-traded community banks or thrifts.
In May, Farmers & Merchants moved up to the Nasdaq market (listed as FMAO) after years of being traded over-the-counter. In June it was added to the broad-market Russell 3000 Index.
Then July rolled around and the banking company's executives were asked to come to Times Square in New York to ring the opening bell at Nasdaq trading floor.
But the excitement for both the Fulton County bank — and its investors — hasn't ended just yet.
In a year when stocks of area companies increased modestly, shares of Farmers & Merchants Bancorp moved at lightspeed, providing a total return on investment of 373 percent over the 12 months thanks partly to a 2-for-1 stock split that occurred Sept. 21.
Overall among northwest Ohio's 17 publicly-traded companies last year, 14 of them had positive gains while three stocks declined.
Excluding Farmers & Merchants' 373 percent outlier, gainers ranged from 0.3 percent at Michigan furniture maker La-Z-Boy Inc. to 78 percent at Toledo building products supplier Owens Corning.
Additionally, 16 of the 17 area companies paid dividends, from 24 cents at Dana Inc. to a hefty $3.48 at real estate investment trust Welltower Inc.
Farmers & Merchants' exceptional year was somewhat expected by management of the 120-year-old bank, after a strong 2016 in which it hit $1 billion in assets.
But even the bank's top officials were surprised when they declared the stock split in September — and the company's share price continued to rise. It was $34.89 a share when the split occurred and the next day went to $35.35 a share. It closed the year at $40.80 a year after starting 2017 at $17.50 a share.
Typically, when a 2-for-1 stock split occurs a share price drops or gets halved because investor demand wanes with the doubling of outstanding shares.
"We were all waiting to see how far the price was going to drop," said Marty Filogamo, the bank's senior vice president of marketing. "But it never did and then it kept going up."
Mr. Filogamo said the bank had to assure some stockholders that the stock split did in fact take place.
Three other regional banks, SB Financial Group, Croghan Bancshares, and United Bancshares were among the top 10 in total share value in 2017.
It was a rough year for three area companies whose total share return declined. Cooper Tire & Rubber shares finished down 8 percent, The Andersons shares were down 27 percent, and Libbey Inc.'s were down 59 percent despite all three providing their investors with dividends.
An individual who purchased one share of each 17 firms at the start of year would have paid $594.22. But by year's end, those shares would be worth a combined $677.18, or a gain of $82.96. The hypothetical investor also would have received $18.08 in dividends and their total return on investment would have been 17 percent.
By comparison, in 2017 the Dow Jones Industrial Average had a return of 25 percent, the S&P 500 Price Index nearly 19 percent, and the Nasdaq market 28 percent.
Two companies that are lightly traded over-the-counter had largely uneventful 2017 performances. Ohio Art Co.'s stock only moved $0.06 cents from January to December, while shares of N-Viro International began the year at 4.5 cents a share and ended a less than half a cent.
Contact Jon Chavez at jchavez@theblade.com or 419-724-6128.
Guidelines: Please keep your comments smart and civil. Don't attack other readers personally, and keep your language decent. Comments that violate these standards, or our privacy statement or visitor's agreement, are subject to being removed and commenters are subject to being banned. To post comments, you must be a registered user on toledoblade.com. To find out more, please visit the FAQ.