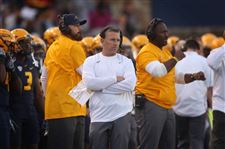 UT coach Jason Candle just completed his second full season as head coach and led the Rockets to their first MAC championship since 2004.
Blade/Katie Rausch Enlarge
After two full seasons as coach of the University of Toledo football team and fresh off a new contract extension through the 2023 season, Jason Candle has produced results on the field.
The Rockets are coming off an 11-3 season and their first Mid-American Conference championship since 2004. Candle's record during the last two years, plus a bowl game in 2015, is 21-7.
As Candle reflects on the past two years and the state of the program at this stage, he is proud of the on-field results, but he quickly shifts the focus from the number of wins to the character development of his players.
"I never want to judge success off of whether a team or a senior class wins a championship," Candle said. "I think it is all based on what these guys turn out to be 20 or 30 years down the road and what they are able to accomplish. You watch them grow and mature as young people and young men over the course of the four or five years they spend with us.
"I think our staff has done a really good job of helping our guys set up for the future and life after football. It's bigger than just the football piece. I think it's the whole part of how you fit into the community and how you represent the University of Toledo and your family. I think we are getting to the point where we are pushing guys out that have a chance to represent themselves very well."
A record-setting 2017 season ended with a disappointing and somewhat puzzling loss to Appalachian State in the Dollar General Bowl. It was a tough way to end what was one of the best seasons in program history.
"We had a great year," Candle said. "We won 11 football games and did what we said we wanted to do at the beginning of the year. We set out to win a conference championship, and we were the first team here to do that in a long time. You have a senior class that has so much to be proud of.
"If I look back on the season, probably what I'm most proud of is guys doing things right off the field, and the buy-in value to that, and being a good citizen, and the character piece of things, and how much that matters. Any time you can do that and are able to win a conference championship, I think you've had a real successful year."
Raising the bar
Candle admits that building off of last year's success will be tough in year three of his tenure at Toledo. The senior class this season was well-decorated and authored a season for the ages.
As such seniors as quarterback Logan Woodside, running back Terry Swanson, defensive tackle Marquise Moore, and cornerback Trevon Mathis all move on, Candle expects new players and new leaders to emerge. That is the sign of a good program, according to Candle, who is confident that this group can live up to that standard.
"Every year you hope that the standard gets raised even higher," Candle said. "We went from nine wins to 11 wins, and you go from a team that had a lot of tangible goals that they could attain, and this team was able to accomplish some things that last year's team wasn't. Hopefully next year's team will be able to do that as well.
"But every team is different, and every year is different. The main challenge is to maintain the consistency of what that looks like. For our guys to take a step in the right direction from year one to year two, I think it will be an even harder challenge to go from year two to year three."
Aside from the senior class last season, a lot of young players played large roles for Toledo, some because of injuries and some just based on promising talent. Candle said he is excited for his group of returning players, but he recognizes there are still plenty of unknowns that come along with such a youthful roster.
"It's a very unique team that we have coming back," Candle said. "Depending on how you look at it, you could say we are very experienced because guys did get a chance to play in a lot of games. But we are so young at so many positions. There are so many question marks and things that need to be answered from now until the time that we play a football game. It makes for the offseason to be that much more critical to our success."
Replacing Woodside
One of the biggest question marks is at quarterback, where the Rockets must replace the program's all-time leader in passing yards and passing touchdowns in Woodside. Candle knows how important Woodside has been in his career but says it will be a fun challenge to find the next starter.
"My answer would be very similar to when we lost Phillip Ely," Candle said. "You lose someone that you have trusted for so long and someone who provides a security blanket. But just like he has provided a security blanket for our coaching staff and myself as a head coach, he has for our team as well. But with the feeling of being uncomfortable comes growth, and that is what our team needs.
"When great players move on there is going to be a little bit of uneasiness and questions of who's next and what's going to happen next at a particular position. Nobody would have thought two years ago when Phillip Ely left that we would lead the country in touchdown passes the next year, but we did and Logan did. It will be interesting to see, and certainly it is a journey we are looking forward to."
Thompson's return
Toledo got welcome news when standout wide receiver Cody Thompson announced he will come back for a fifth season after losing most of last season because of a broken leg. Thompson will be a leader and voice of experience for the Rockets next season.
"Cody has an innate ability to impact people very naturally," Candle said. "He's got an infectious personality, and he has a real love for the University of Toledo and this football program and his teammates. I think it's huge to have him back because he is a captain, and is a captain for a reason. The impact of what he brings to the table away from the football field is equal to if not greater than what he does on the field. And we all know what a great player he is."
Stability with the coaching staff
Recognized as one of the top young coaches in the country, Candle is looking forward to his third full season leading the Rockets, and he appreciates the commitment shown to him and his staff with the recent contract extension.
"I'm very thankful for the support that [UT president] Dr. [Sharon] Gaber and [UT vice president and athletic director] Mike O'Brien has shown our staff," Candle said. "We've worked really hard to get to this point, and to see that commitment from that side of it is really encouraging and refreshing, and I think it is a statement that there is a commitment to being the best here at the University of Toledo. And that standard has been raised even higher now. We understand that and embrace that, and we are looking forward to having a great year next year as well."
Contact Brian Buckey at bbuckey@theblade.com, 419-724-6110, or on Twitter @BrianBuckey.
Guidelines: Please keep your comments smart and civil. Don't attack other readers personally, and keep your language decent. Comments that violate these standards, or our privacy statement or visitor's agreement, are subject to being removed and commenters are subject to being banned. To post comments, you must be a registered user on toledoblade.com. To find out more, please visit the FAQ.